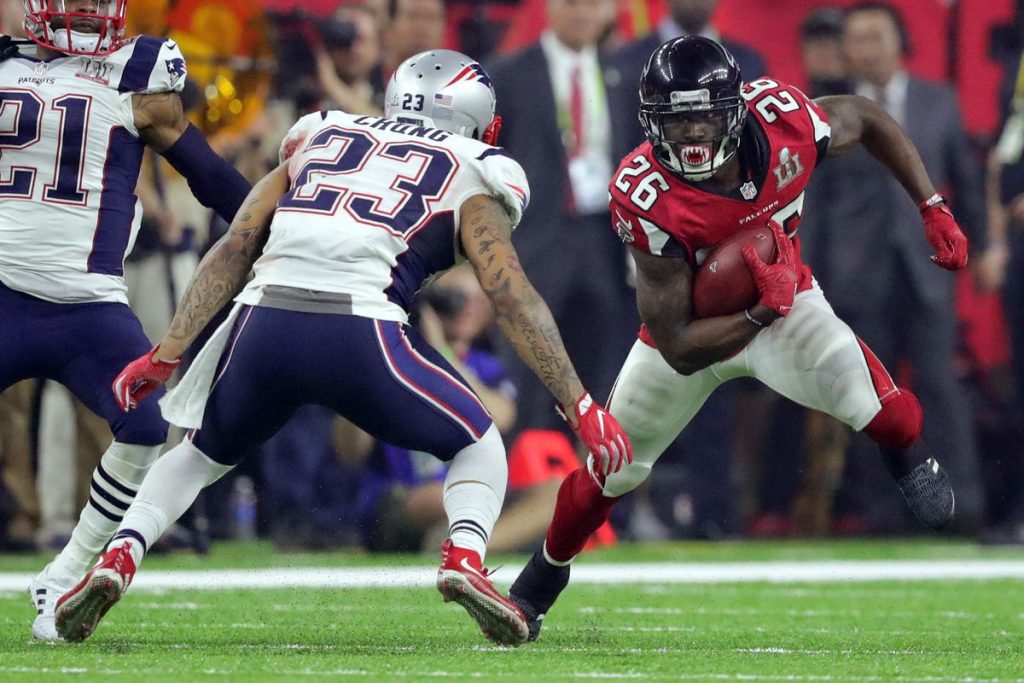 NFL Props Betting — Thursday Night Football: Patriots vs. Falcons
NFL Props Betting — Thursday Night Football: Patriots vs. Falcons (11/18)
Who will the spotlight be on for the Thursday Night Football game between the New England Patriots and Atlanta Falcons? Well, one good place for BetOnline customers to start is Mac Jones.

The Pats' rookie quarterback is getting a lot of attention and a lot of praise of late, because his team has won four games in a row and is challenging in the AFC East, and he has evolved into a maturing on-field leader, and much more than a "game manager."
Thus, it is not inconceivable that he can ring up some big numbers.
The script the Patriots follow, and the way the game flows, will have a definite effect on what those numbers are going to be.
Here is the over-under on Jones' passing yards, as it appears at BetOnline:
Mac Jones Over 252.5 Yards -114
Mac Jones Under 252.5 Yards -114
Jones has 2333 yards, which obviously comes to an average of 233.3 per game. He's only been picked off once in the last four games, and it's no coincidence that the Pats have won all four.
This is a cool customer who has stepped into a tough situation and thrived. Of course, we say it's tough because Tom Brady left and won a Super Bowl, and Cam Newton did not succeed in his place.
Unquestionably, Nick Saban, who was Jones' coach at Alabama, had some long talks with Bill Belichick about the virtues of his quarterback in advance of the draft. And Saban is not surprised at all that Jones has proven to be a good fit with the Pats.
"He does a great job preparing for a game," says Saban. "And he can go out and execute and do what coaches want him to do."
Rookie quarterbacks are going to get sacked. But some of those guys are taking the sack instead of making a bad throw. By and large, Jones is able to make his decisions in a hurry. And he is going a little deeper down the field; in his first five games his best yards-per-attempt was 7.7. He's beaten that in four of the last five games.
And we still haven't seen Jones maximize what he can do with the long ball. His accuracy on deep passes at Alabama was 74.4%, which was off the charts.
Yet the "over" here is no slam dunk. If you look at his last three games, he's thrown for 217, 139 and 198 yards. How is that? Well, it's because the Pats have re-dedicated themselves to running the football. If it was Bill Belichick's choice, he'd be running it down Atlanta's throat. At the same time, that balance gives Jones more of a chance of success.
And when we say "balance," we really mean it. In their last three games, they have run the ball 57% of the time, and on the road that figure is 52.4%. And they can execute even if Damian Harris is out of action (concussion), as they have Rhomandre Stevenson and others.
And this is the point: Belichick and the Pats know that they can win even if they don't get big numbers out of their quarterback. So we are not all that uncomfortable with the "under" on this one.
You can find a virtual plethora of props to wager on with Prop Builder at BetOnline. There are many variations, and you can even build your own. …….. For a limited-time only, get a 5% boost on your Bitcoin deposits….. And there are more alternatives, as you can deposit with a number of altcoins, which makes the whole process easier!