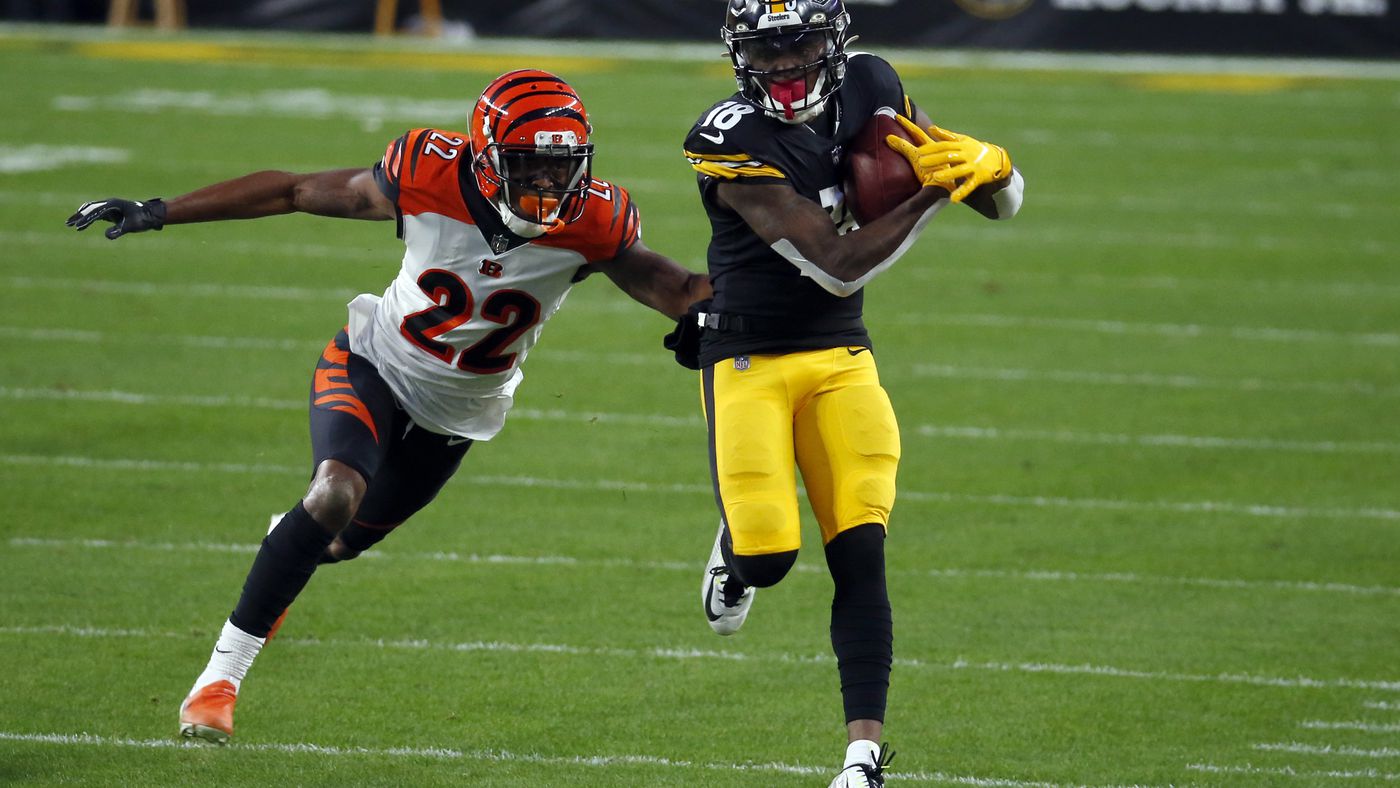 Football Betting Odds — Pittsburgh Steelers at Cincinnati Bengals | OSB
Football Betting Odds — Pittsburgh Steelers at Cincinnati Bengals (11/28)

The Pittsburgh Steelers have been struggling throughout most of the season trying to establish an offensive identity. But they managed to stay involved in the playoff race, although they are in an ultra-competitive division in the AFC North.
As BetOnline customers have noticed, the Cincinnati Bengals have thrust themselves into that competitive dynamic, and they are the second-place team in that division.
They can very possibly put themselves in a tie for the AFC North lead on Sunday with a victory over the Steelers, coupled with a loss by the Baltimore Ravens, who played the Cleveland Browns at night.
Kickoff for the Steelers- Bengals game is 1 p.m. Eastern at Paul Brown Stadium.
Last week the Steelers fell way behind to the Los Angeles Chargers, and then made an improbable comeback which was fueled by mistakes gifted them by the Bolts, including an interception and a blocked kick. Pittsburgh scored 27 points in the fourth quarter but still came up short, losing  41 – 37.
These teams met back in Week 3, in a game dominated by Cincinnati. They got three touchdown passes out of Joe Burrow, two of which went to rookie Ja'Marr Chase, and they sacked Ben Roethlisberger four times, intercepting him twice in a 24-10 victory.
In the football betting odds that have been posted on this game by the people at  BetOnline, the Bengals are laying points at home:
Cincinnati Bengals -3.5
Pittsburgh Steelers + 3.5
Over  44 points -110
Under 44 points -110
So what should we expect in this rematch? Well, frankly, Pittsburgh should be looking to run the football. That has been what head coach Mike Tomlin expressed he wanted to do, and that's why they drafted Najee Harris in the first round out of Alabama. Whether this team can find enough room to do that is another question. Yes, the Bengals have allowed 4.2 yards per carry, which is credible but not sensational, but there are also sixth-best in the league and yards allowed per drive, and that is something that has been overlooked by the people who prefer to talk about Burrow and Chase.
It's a tough proposition when you talk about Roethlisberger and what he is capable of doing. He does not throw the ball far beyond the line of scrimmage anymore, so stretching out the defense is probably less possible than with most quarterbacks. But he is a veteran presence, not to mention a much better alternative than backup Mason Rudolph,  as we have seen already. And he's only been intercepted four times is 343 attempts. That's a positive.
And he's got an extremely capable pair of wide receivers. Diontae Johnson has averaged 10.6 yards per target, which is the fifth-best in the league. And Chase Claypool is well-known as a big-play receiver, averaging 15.5 yards per catch.
There is a great piece of news for the Steelers, as TJ Watt and Minkah Fitzpatrick, to Pro Bowl performers on defense who missed the last game against the Chargers, are expected back into the lineup. They'll be needed because Pittsburgh has gotten disappointing results out of young corners like James Pierre and Cam Sutton, and there is the looming threat of Chase, who caught four passes against them in the previous meeting, two of which went for touchdowns.
It was relatively easy for Cincinnati last week, as the Raiders stumbled and fumbled and stumbled and fell to them 32-13 out in Vegas. Fundamentally, they have some advantages here, not the least of which is that they are better on both offense and defense than Pittsburgh is.
That's not a bad indicator, but frankly, we like to cite Cincinnati's very slow pace of play, which tends to extend drives and take up more time on the clock. As such, and considering the Steelers should be better on defense than they were last week, we'll try going UNDER the total in this AFC North matchup.
 BetOnline puts you right into the big leagues when it comes to NFL betting……. You're right on target for all the props you want and click the "Live Betting" if you want real-time wagers that add a dimension of excitement…… Odds Boosters can get you greatly-enhanced payouts on pre-selected parlays every day of the week…… Get things started by using digital currency, and that includes Bitcoin, where you can get a 5% boost right away to enhance your bankroll!