NFL Predictions — Philadelphia Eagles at New York Giants | OSB
NFL Predictions — Philadelphia Eagles at
New York Giants (11/28)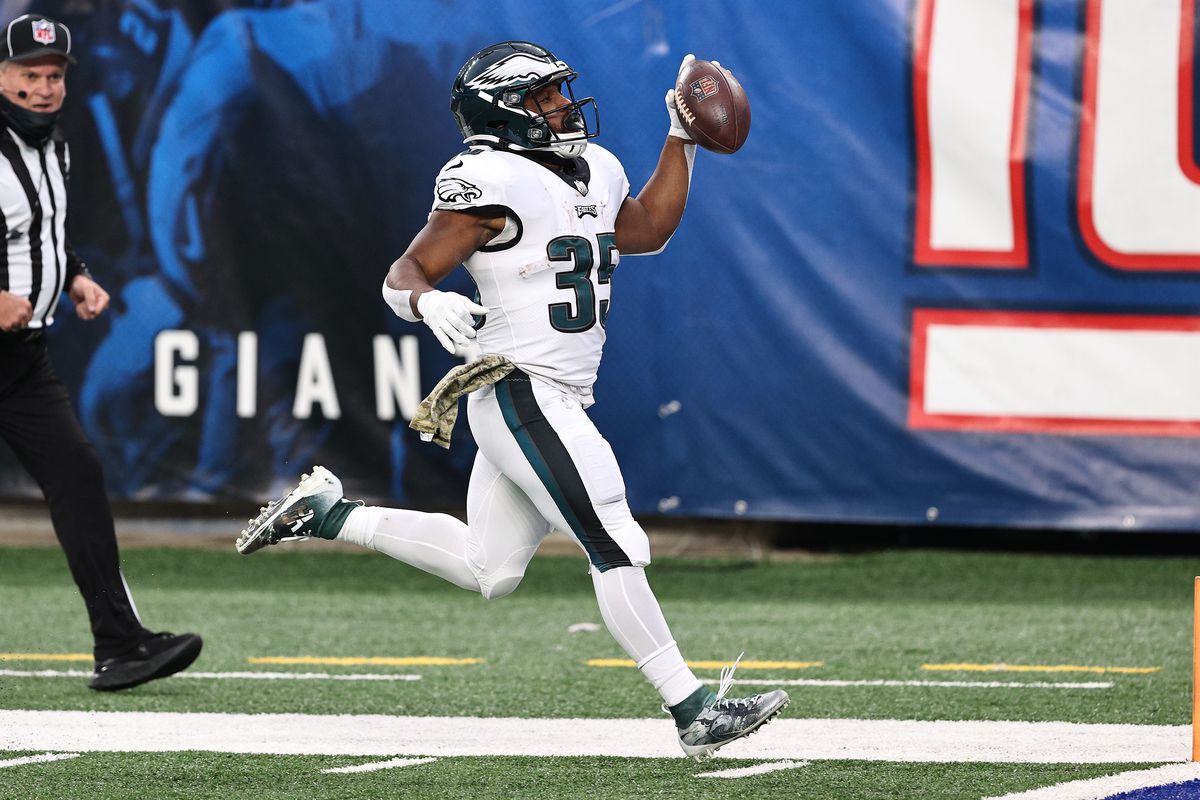 Well, there has been some drama in the New York Giants' camp, to say the least. Beaten rather thoroughly by the Tampa Bay Buccaneers on Monday night, head coach Joe Judge, who is in his first year on the job, expressed some disgust at the way the offense was called in a post-game press conference. Before you knew it, his coordinator, Jason Garrett, was shown the door.
BetOnline customers might expect that the Giants will show something different as they come out for Sunday's game against the Philadelphia Eagles. They will kick the game off at 1 p.m. Eastern time at MetLife Stadium in East Rutherford, NJ.
The rap on Garrett was that he was too vanilla; too predictable. And the criticism poured in, mostly from anonymous sources, after the firing. But what got Judge especially upset is that he does not believe Garrett was able to design things to get the ball into the hands of the playmakers. Yes, there was some progress with Kadarius Toney in the game against the Bucs, as he was targeted 12 times. But Kenny Golladay is a real priority. He's been in and out of the trainer's room, but 17 of his 20 receptions have gone for a first down.
Judge hopes that Freddie Kitchens can help bring some fresh ideas to the game plan. More on that in a moment.
Meanwhile, the Eagles did their tweaking weeks ago, and they have come out with what might best be described as a dominant rushing game. Well, it's dominant if you figure 217.5 yards per game over the last four is something that works. That would be about 60 yards per game ahead of any other team in the NFL if it was projected over a full season. More on that in a moment as well. In the NFL betting odds that have been posted on this game by the folks at BetOnline, the Eagles are the favorites on the road:
Philadelphia Eagles – 3.5 (- 113)
New York Giants + 3.5 ( – 107)
Over 45.5 points – 113
Under 45.5 points – 107
Kitchens had been named as the interim offensive coordinator in Cleveland a few years ago, and not only did Baker Mayfield start to emerge a little, but the Browns started making a lot of progress in the ground game as well. They won five of the eight games where Kitchens was calling the plays, and management was impressed enough that they hired him as the head coach the next season.
Admittedly that experience was too overwhelming for him, and after a 6 – 10 campaign, he was fired.
When Garrett had been sidelined with Covid earlier in the season, Kitchens stepped in and did the play calling in his absence. He has been charged with adding some images to the attack, and that would certainly mean continuing to get the ball into Golladay's hands, as well as Toney's. Saquon Barkley, the dual-threat who might be playing a little tentatively right now if you're coming back from injury, is a priority as well.
If the Giants are going down the field with Daniel Jones, it is then important that Philadelphia will have safety Darius Slay in the lineup. He had been questionable, but all indications are that he is going to suit up.
On the defensive side, the Giants have their work cut out for them. They do not get a lot of push out of their defensive line, and Philadelphia has been creating a lot of yardage before contact for its ball-carriers, and that doesn't even include quarterback Jalen Hurts, who actually leads the team in rushing with over 600 yards.
We are not real confident that the Giants can slow down what Philadelphia wants to do on offense. After all, if the Saints, who were allowing only 3.1 yards per carry, couldn't do it, we doubt New York will be able to. For that reason, we are going to lay the points with the Eagles in this game.
BetOnline puts you right into the big leagues when it comes to NFL betting……. You're right on target for all the props you want, and click the "Live Betting" if you want real-time wagers that add a dimension of excitement…… Odds Boosters can get you greatly-enhanced payouts on pre-selected parlays every day of the week…… Get things started by using digital currency, and that includes Bitcoin, where you can get a 5% boost right away to enhance your bankroll!