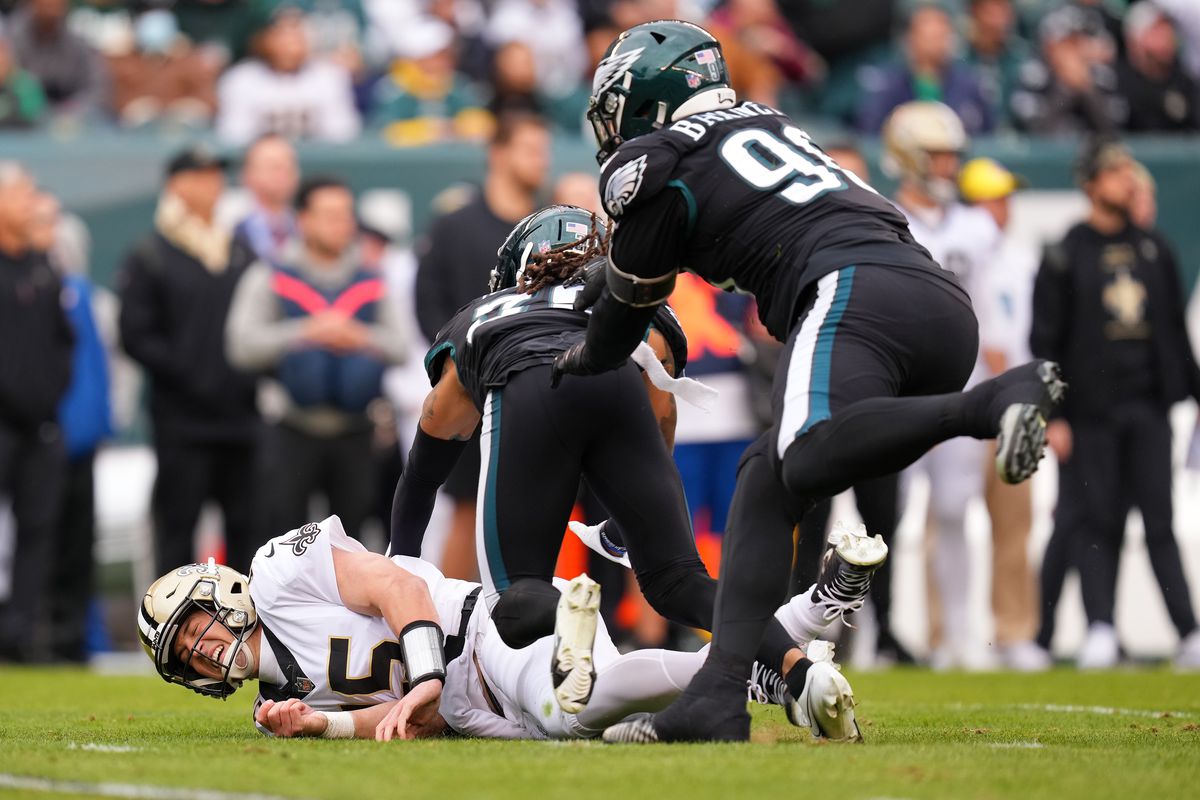 NFL Picks | New Orleans Saints at Philadelphia Eagles | OSB
NFL Picks — New Orleans Saints at Philadelphia Eagles (11/21)
The New Orleans Saints have been dealing with injuries all season long, but with Jameis Winston at quarterback, at least they had someone who was "reforming" himself and becoming less mistake-prone. With Trevor Siemian in the saddle, they get someone who has avoided turnovers, but is somewhat limited.

But BetAnySports customers know that you can go so far with some of that. The Saints will be missing some starters as they take on the Philadelphia Eagles in a game that kicks off at 1 PM ET at Lincoln Financial Field (otherwise known as "The Linc").
Siemian has not thrown an interception yet, and that is a good thing. So is the fact that he is rated by Pro Football Focus, a "bible" of analytics, with the second-highest grade in the fourth quarter.
Here's the thing, though. The Saints have kind of changed the offensive formula that was working for them. They had the highest percentage of running plays in the NFL, but over the last three games, they have kept the ball on the ground only 38.6% of the time.
Is there an excuse? Well, we guess so, because Alvin Kamara has dealt with injuries. But they did re-acquire Mark Ingram from Houston.
At some point, this stuff has to come back and bite you in the you-know-what. Is this the time for that to happen?
After last week's loss to Tennessee, which came on the heels of a win over Tampa Bay and a loss to Atlanta, they are at 5-4, and only the loss by the Bucs to Washington last week has kept them within a game of the lead in the NFC South.
Philadelphia is 4-6, which means they are not that far from being in the middle of the playoff race. With a third wild card team this year, it is conceivable that an 8-8 team could be a part of the postseason mix.
in the NFL betting odds on this game as they are posted at BetAnySports, the Eagles are favored:
Philadelphia Eagles -2.5 (-120)
New Orleans Saints +2.5 (+100)
Over 42.5 points -110
Under 42.5 points -110
That number has risen towards the Eagles, and we'll explain why in a moment. But let's establish what this team has done lately in the way of changing its offensive approach. Nick Sirianni and his staff have gone more run-heavy than anyone of late, and they have been doing that even without Miles Sanders, who was sitting out injured.
In the last three games, Philadelphia has run the ball just under 68% of the time. And they have gotten results too – they've averaged 209 yards on the ground in those games. And now Sanders is ready to come back and join the party.
Part of this strategy, we're certain, is to cover for QB Jalen Hurts, who is just 20th in the NFL in quarterback rating. It is a tough proposition to say that Hurts can go around beating NFL teams with his arm. But the Eagles have become more difficult to deal with, as any team might, by running with success.
It should be pointed out that the Saints have allowed just 3.1 yards per rushing attempt. That is the best in the NFL by far. So they'll be a tough nut for Philly to crack.
That having been said, they're going to have difficulty putting together some offense of their own. Not only is Kamara ruled out, and the receiving group is thin without Michael Thomas out for the year, but they will be missing starting offensive tackles Terron Armstead and Ryan Ramczyk. Plus, they seemingly have not utilized Taysom Hill enough. That's a lot to overcome. And it may push us toward the Eagles, where we were leaning another way earlier in the week.
If you're not signed up with BetAnySports, you're simply not getting the most bang for your buck……You can get reduced juice, which saves you money on each and every bet, which makes it easier to get to your break-even point…… And after the games kick off, you can stay right in the action with Super Lines, Ultimate Lines and Premier Lines……. They make it easy to get involved – just use your credit card, or the digital currency of Bitcoin, which is fast and easy with their automated system, and NEVER incurs a transaction fee!