NFL Betting Odds | Niners Look to Follow Up Big Win Against Jags | OSB
NFL Betting Odds — Niners Look to Follow Up Big Win Against Jags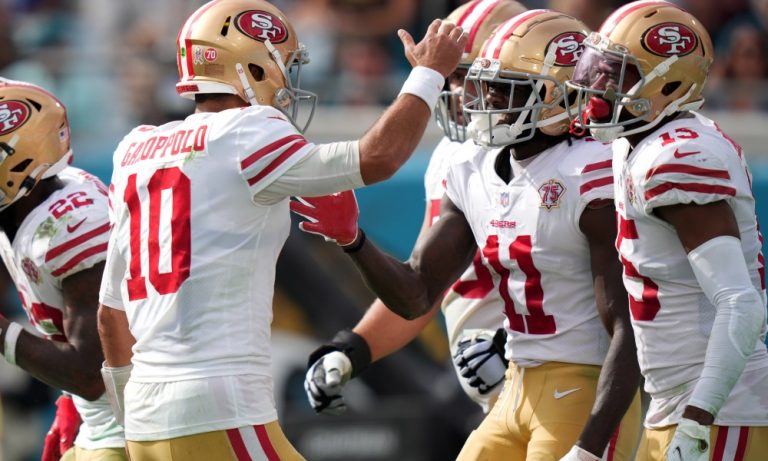 The San Francisco 49ers had a huge win over the Los Angeles Rams last week, and they maintained some relevance in the NFC playoff race. The Jacksonville Jaguars are not involved too much in the playoff scuffle, but they are looking to take positive steps each time out.
Of course, that has been a choppy proposition because of many factors, including the development of rookie quarterback Trevor Lawrence and the erratic behavior coming from, of all places, head coach Urban Meyer.
The Jags get a chance to catch a west coast team traveling east as they play host to the Niners in a game that begins at 1 PM ET.
Remember that at BetOnline, you can bet all kinds of props on this game – it comes your way through Prop Builder, of course.
At 2-7, the Jags have probably disappointed on some levels, and that started in the season opener as they lost to the Houston Texans, who were considered to have the lowest talent level in the NFL. All along, there were questions surrounding Meyer, who at times was acting as if he was still coaching a bunch of college kids.
And that didn't go over well.
But a couple of weeks ago against Buffalo, this team showed what it could do, holding the Bills to six points and making Josh Allen look like the quarterback who was still developing.
So how's their own guy? Trevor Lawrence came into the draft process with the "can't miss" tag, and of course, was taken first by the Jags. He doesn't have a lot around him to work with, so he hasn't had the same kind of success as, say, Mac Jones.
Thus far he has thrown eight TD passes with nine interceptions. But he has developed a relationship with tight end Dan Arnold, who has been on the other end of 18.8% of his targets. James Robinson is also a potential stud at running back and is averaging 4.7 yards per carry. But he is listed as questionable for this game with injuries to his knee and heel.
In the NFL betting odds posted on this game at BetOnline, the Niners are laying points:
San Francisco 49ers -6.5 (-114)
Jacksonville Jaguars +6.5 (-106)
Over 45 points -110
Under 45 points -110
What kind of bothers us about the Niners here is that they come off with such a great effort against the Rams, essentially beating them from pillar to post. And now they are going to be on the east coast, where the body clock has to adjust. That is difficult, regardless of the opponent.
And you know, quietly the Jags have been doing a pretty good job on defense. They are right in the middle of the pack when it comes to defending third downs and in the red zone. While the Rams, for instance, are a little soft against the run, J-Ville is tougher, yielding just 3.9 yards per carry. And even they don't have a lot of sacks, they are second in the NFL in pressure rate.
The reason this is relevant is that Jimmy Garoppolo, for all his good qualities, is not all that efficient under pressure. If you look at the stats at Pro Football Focus, he is the 35th-rated QB vs. pressure.
Yes, it will take an effort on the offensive end for the Jags to have a shot at the upset. We don't know whether Robinson will play, but he has helped the team compile a 5.1-yard per carry average. So this team has the ability to compete at the line of scrimmage. And Elijah Mitchell, the rookie who has been so impressive for the Niners this season, has a broken finger and is listed as doubtful.
This can happen. We're taking the points.
BetOnline puts you right into the big leagues when it comes to NFL betting……. You're right on target for all the props you want, and click the "Live Betting" if you want real-time wagers that add a dimension of excitement…… Odds Boosters can get you greatly-enhanced payouts on pre-selected parlays every day of the week…… Get things started by using digital currency, and that includes Bitcoin, where you can get a 5% boost right away to enhance your bankroll!