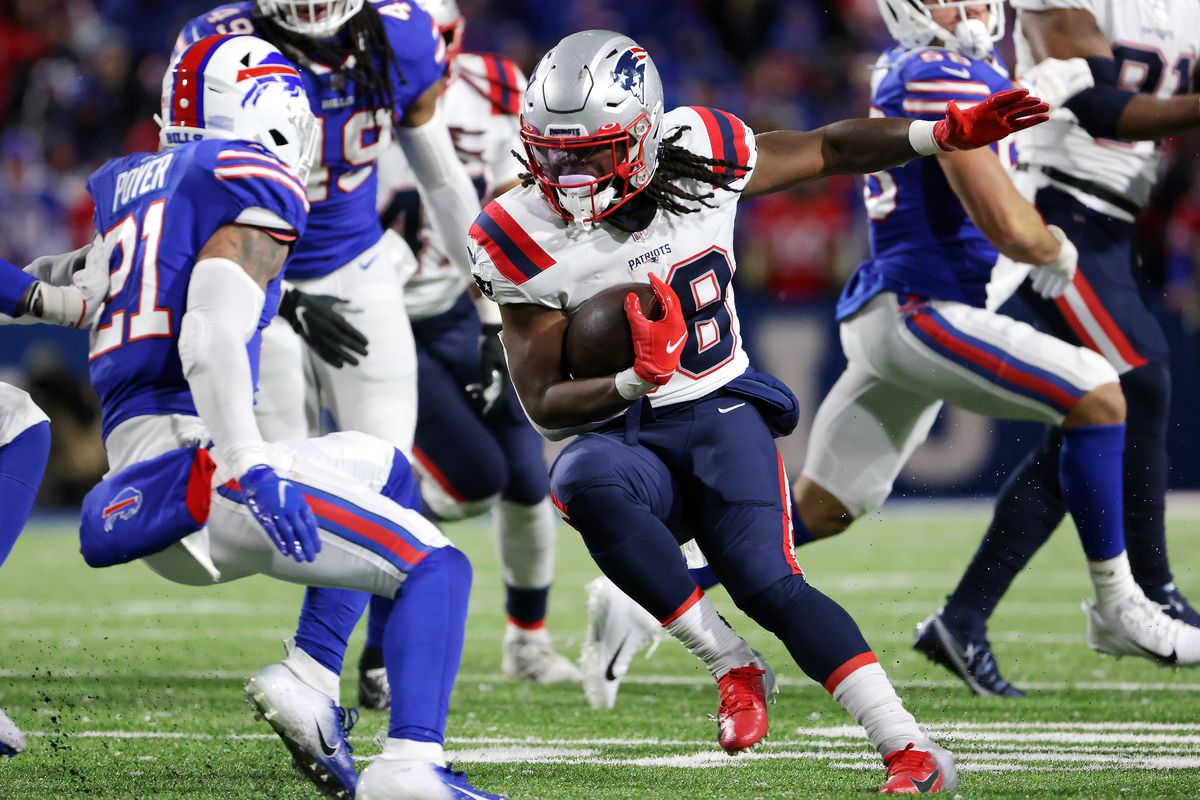 Monday Night Football Betting — New England Patriots at Buffalo Bills | OSB
Monday Night Football Betting — New England Patriots at Buffalo Bills (12/6)

We have a great matchup for ESPN's telecast on Monday, and one that carries an awful lot of significance as well…..
Monday Night Football Betting @ Orchard Park, NY
NEW ENGLAND PATRIOTS at BUFFALO BILLS, 8:15 PM ET (ESPN)
Odds at BetOnline:  
Bills -3 (+100) / Pats +3 (-120)
Total: 40.5 points (-110 each way)
Don't look now, but the Patriots are the leaders in the AFC East, something not many people would have forecast. So the Buffalo Bills know they better wake up and start playing with some consistency.
New England has won with some great defense and a revived ground game, but they haven't been one of the better teams as far as turnovers are concerned (19th in TO's per drive) and is only 24th in the league in red-zone TD conversions.
So the question lingers as to how conservative an offense the Patriots can actually run.
We know that Mac Jones was very proficient at throwing the ball for distance when he was at Alabama; in fact, he had a 74% completion rate on those passes that went 20+ yards downfield. But remember that those passes were caught by superior athletes – such as Jaylen Waddle and Heisman winner Davonte Smith – against opponents that were not in their class.
Nonetheless, Jones has proven to be a leader on the field, and New England fans should be absolutely overjoyed. He has the inside track on being the offensive rookie of the year, and consideration must be given to the fact that he is playing the most difficult and demanding position.
His progress does not surprise everybody. Nick Saban, his college coach, felt as if he would make for a very good fit with his old friend Bill Belichick, under whom he served as defensive coordinator with the Cleveland Browns. And he pointed toward Jones' emphasis on preparation as a key factor.
If we wanted to get into cliche-ridden language, we would say that Jones is "playing within himself." It really might be more accurate to say that Belichick isn't asking him to do more than he might be ready for.
But the interesting thing is that the pattern this season has taken on the offensive end is different than what BetOnline patrons might expect. In his first four games, Jones put the ball in the air 160 times. But in his last four, he's thrown it only 99 times. The Pats, instead of opening things up for MORE passing, have actually thrown it less and relied on the ground game more.
And it has been a decent formula, as the team is winning. But for instance, while the Pats are 13th in the league in rushing, Buffalo is 11th. And the Bills have run for more yardage per carry. So the narrative might be a bit deceiving.
Critics may also point to the proposition that the Patriots have mowed through a series of flawed opponents in the process of running this six-game streak. But when you dismantle teams the way they have (giving up 63 points during that period and scoring 211 of their own), it's tough to spin that it's all about bad opponents, especially in the NFL.
Indeed, New England lost to Tampa Bay and Dallas in last-second fashion, so they are kind of unfortunate not to have won nine in a row by now.
Buffalo has had a couple of thoroughly disappointing results lately in losses to Jacksonville and Tennessee (the Titans without Derrick Henry in that one), but we know they are capable of much better things.
They are still #1 in the league in net points and yards per drive, as per the analytics tables at Football Outsiders, and that is not meaningless.
And yes, this will be the most complete foe the Patriots will have faced in some time. And no, the Bills shouldn't have any problem with focus of look-aheads or anything like that.
And yes, a rookie quarterback is playing on Monday night for the first time, where everyone in the league is watching him.
Come to BetOnline and get the best of all the props that are available through Prop Builder…… Also, if you're the type who loves more action, get it with "Live Betting," which is located at the top of the interface….. Open up your account with a credit card or with any number of crypto options, including Bitcoin!