Golden State Warriors vs Indiana Pacers Predictions | OSB
Warriors vs Pacers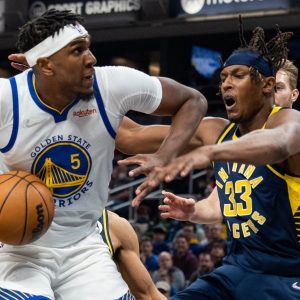 Tommy D Here With Online Sports Bet, America's Favorite Sports Information Channel.
This Is The Monday, January 2nd NBA Report Where We Will Be Releasing Our Warriors vs Pacers picks and parlays.
This Game Tips Off tonight at 10:00 P.M. Eastern Time in San Francisco,  and the Warriors and Pacers odds from WynnBET have the Warriors as a 10 point favorite, and has the over/under at 217.5.
Before we get to our Warriors vs. Pacers picks and predictions, please go ahead and subscribe to Our Channel – Online Sports Bet. Hit The Bell Button – You Will Be Notified Everytime I Come Up With A New Sports Update. 
The college basketball point spreads in the early part of the season are some of the softest we have ever seen and we are destroying bookmakers with our VIP Hoop picks. To get tonight's selections for Free, All You Need To Do Is Click The Link Below Or Go To Onlinesportsbet.com And We Will Send the pick to you Via Text Or Email. It's that easy.
Ok, let's get to our Warriors vs. Pacers predictions.
The Indiana Pacers travel to San Francisco to face the Golden State Warriors on the second night of a rough back to back away slate for the Pacers. They are losers of their last four games including heartbreaking losses to the Boston Celtics in overtime, and another to the Los Angeles Clippers where they put up 133 points in a losing effort. 
Their next two games are against the top two seeds in the west in the Warriors and Suns, making their recent trend of losing being at risk of continuing. They recently lost Myles Turner to a foot injury, but rumors are circulating that the Pacers will shut him down in hopes of finding a trade partner for him before the trade deadline.
 Jeremy Lamb and Malcolm Brogdon both are banged up at the moment but are both on track to play the game against the Warriors. The Golden State Warriors had been on their worst ten game stretch of the season so far being 5-5 in that stretch. Part of the reason for this has been the fact that they are missing Draymond Green, their do it all big man. It seems that the medicine to cure any slumping team though is to just play the Pistons, and the same was true with the warriors. 
They beat the Pistons by 16 and were up in the game by as much as 34. Klay Thompson, who had yet to shoot over 40% in a game since his return, had his best outing scoring 21 points on 46% shooting. The Warriors seem poised to return to their early season form where they were the team to beat. 
So for our Warriors vs Pacers expert Pick take the Warriors -10.