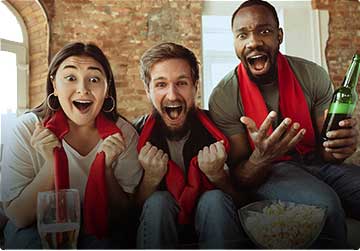 NBA Betting Preview Houston Rockets at Los Angeles Lakers 12/17
Why are the Houston Rockets so inconsistent? Clearly they have the talent to make a run in the NBA's Western Conference, but they have already exhausted one coach and seem to follow up outstanding efforts with duds. On Thursday night they will once again encounter a team that they vanquished less than a week ago when they visit the Los Angeles Lakers in a TNT-televised game that will get underway at 10:35 PM ET at the Staples Center. BetAnySports customers will get to watch the action and place wagers on it with the help of Live Betting Extra.
Five nights ago, the Rockets blew the Lakers away at the Toyota Center, shooting 52% with a 64-46 rebounding advantage in a 126-97 rout. But they set out on the road after that and suffered back-to-back defeats to the Denver Nuggets and Sacramento Kings. So now here they are, again under the .500 mark (12-14 SU, 9-17 ATS) and they have to nail those games that are winnable. If the Lakers (4-21 SU, 9-16 ATS) aren't beatable, who is?
These Lakers are having a hard time stopping anybody; they have allowed the opposition to shoot 50% over their last four games (all of which resulted in an "over"), but they are the team coming in here after a victory, as they defeated Milwaukee 113-95 two nights ago. More likely than not, the Bucks were still in shock over ending Golden State's long unbeaten streak.
In the NBA betting odds posted on this game by the people at BetAnySports, the Rockets are laying points on the road:
There have been rumors swirling around the Rockets' camp that center Dwight Howard can't co-exist with James Harden and wants out of Houston. He is denying any of that. But the point is that he just doesn't play like he is fitting in. Against Sacramento the other night, he had only four points and got himself into foul trouble. That doesn't help very much, and since he is considered to be the defensive "enforcer" in the middle, when he is dormant, the other team can take more liberties around the basket. Even though the Kings committed 28 turnovers, they beat the Rockets by ten points based on 51% shooting.
Howard may not need to get charged up too much to face his former team (albeit for one year). He had 18 points in the last meeting. As BetAnySports patrons are well aware, Kobe Bryant is bidding farewell to the NBA after this season, and he is coming off a nice effort against Milwaukee (22 points).
Of course, the Lakers need help in a lot of areas, and the retirement of Bryant could actually be instrumental in them getting that help, because his salary will come off the books and the team will be able to free a lot of cap room, which they may use to go after somebody like Kevin Durant.
Scoring has been a lot more balances than it has been in the recent past; the Lakers are working youngsters in to the lineup, such as Julian Randle (11.7 ppg, 9.5 rpg) and D'Angelo Russell (12.3 ppg, 3.4 apg). This is a poor-shooting club; Bryant is the leading scorer (16.5 ppg) but is only 33% from the field, and Roy Hibbert, who has started every game at center, isn't producing a whole lot on offense (just 7.8 ppg). They have some working parts, but they are not "together."
BetAnySports has your ticket to great NBA betting action, and that includes getting reduced juice before the game and in-game wagers while the you watch it on TV! Join up with Bitcoin or your major credit card and get a free play bonus – they are available on your computer or through the mobile app!