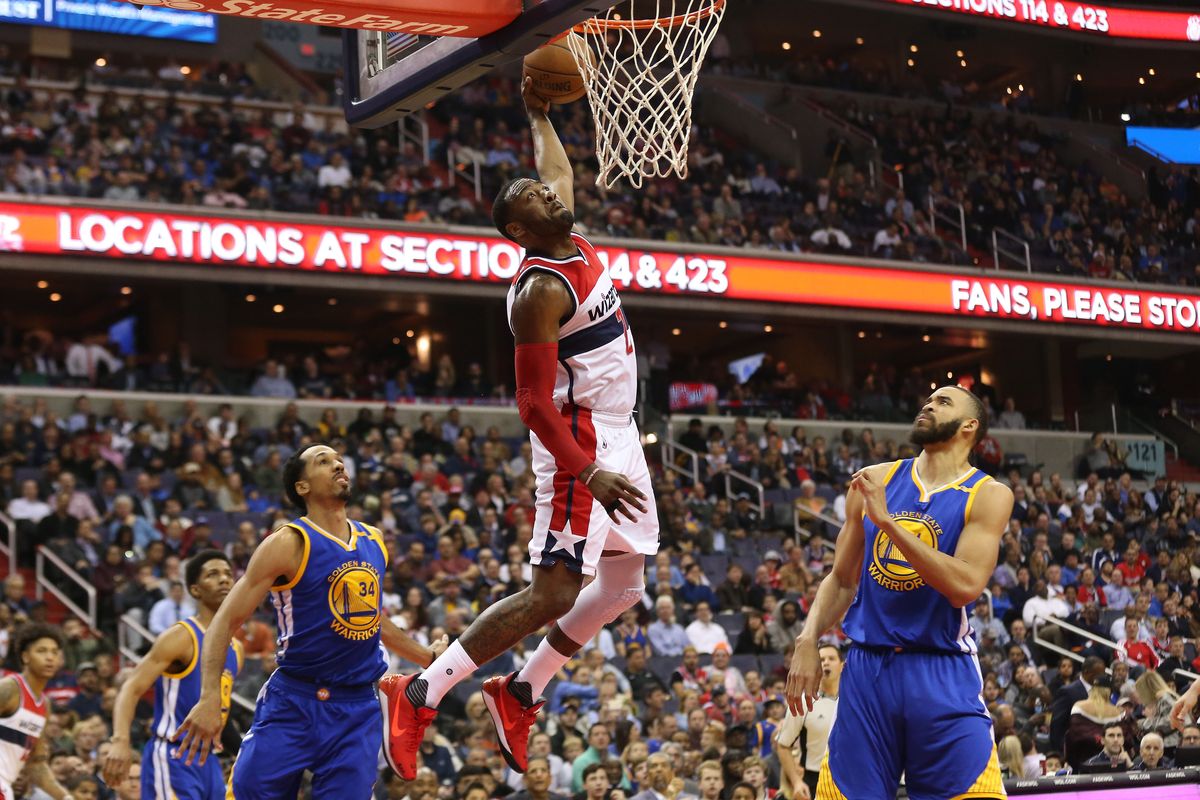 02 Apr

Washington Wizards vs. Golden State Warriors – 4/2/17 Free NBA Pick

The Golden State Warriors have gotten some good news this week, in that they are relatively certain Kevin Durant will return at some point before the end of the regular season. He has been playing five-on-five scrimmages, so he certainly should be back in time to the playoffs. The Warriors are creating some of their own good news as well, with ten consecutive victories as they move into Sunday night's game against the Washington Wizards at the Oracle Arena in Oakland. They will get underway at 8:05 PM ET, and BetAnySports  customers, who get reduced juice on the odds prior to the game starting, can keep their action going even after the opening whistle, accessing the state-of-the-art software available through Live Betting Ultra.

Currently, Golden State is 62-14 straight-up and 36-37-3 against the basketball pointspread. They would seem to have a comfortable lead over San Antonio in the race for home-court advantage throughout the playoffs, leading the Spurs by 3.5 games. They have also been doing something very unusual, for them, which is covering the number, with a 7-1-1 mark against the pointspread over the last nine games.

Washington has lost two games in a row, to the Los Angeles Clippers and Utah Jazz. The last one, in Salt Lake City a couple of nights ago, was particularly gnawing, as John Wall scored just 16 points and got himself flagged for his 15th technical foul of the season (one more and he gets a suspension). Afterward, he complained about the officials, saying "If you're going to hold players accountable, you need to hold the refs accountable." Bradley Beal was the high man with 27 points for the Wizards, who are now tied with the Toronto Raptors for third place in the Eastern Conference, three games behind the Boston Celtics. Washington is 46-30 on the season, with a 39-36-1 ATS record.

In the NBA odds that have been posted on this game by the folks at BetAnySports, Golden State is the solid favorite:

Golden State Warriors -10

Washington Wizards +10

Over 222 points -110

Under 222 points -110

Golden State has played some lockdown defense of late, holding four of its last 10 opponents below 40% from the field. And they have shown some wherewithal along the way. They went down by 22 points in the first quarter against the San Antonio Spurs, then they came all the way back and won going away (a 12-point margin). So you know that they are in a pretty good place right now, good enough that some writers have even suggested they are better without Kevin Durant, who has been sitting out with a knee injury. He got that on February 28, as the Warriors went to the Verizon Center in the nation's capital and lost 112-108 to these Wizards. They went a little cold from the field in that one, hitting just eight of their 28 attempts from three-point range, and they allowed Washington to get 17 rebounds on the offensive end. Wall set what was then a career-high with 19 assists in the ball game.

BetAnySports patrons probably know that Washington is not known for its defense; in fact, they are rated just 18th in efficiency, while Golden State occupies the #2 spot. And Washington has not been getting a lot of three-point power from two players from whom one might expect it. Bojan Bogdanovic has gone just 12-51 from beyond the arc in his last 13 games, while Otto Porter, who at one time was leading the league in three-point accuracy (he's now third), has made just seven of his 22 triple attempts over the last seven games. So the question is, will the Warriors be able to continue this incredible trend of 16 unders in their last 19 games? We think that's a very strong possibility.

BetAnySports gives you a lot of extras, including a free play bonus just for signing up, along with reduced juice, which allows you to avoid laying the customary -110 on your hoops action…… And speaking of action, you can keep it going even after the game begins, when you take advantage of what is available through Live Betting Ultra…… There are multiple ways to make a deposit, including your Visa card, person-to-person transfers or the virtual currency of Bitcoin, which offers all the privacy and confidentiality in the world and carries with it no transaction fees!