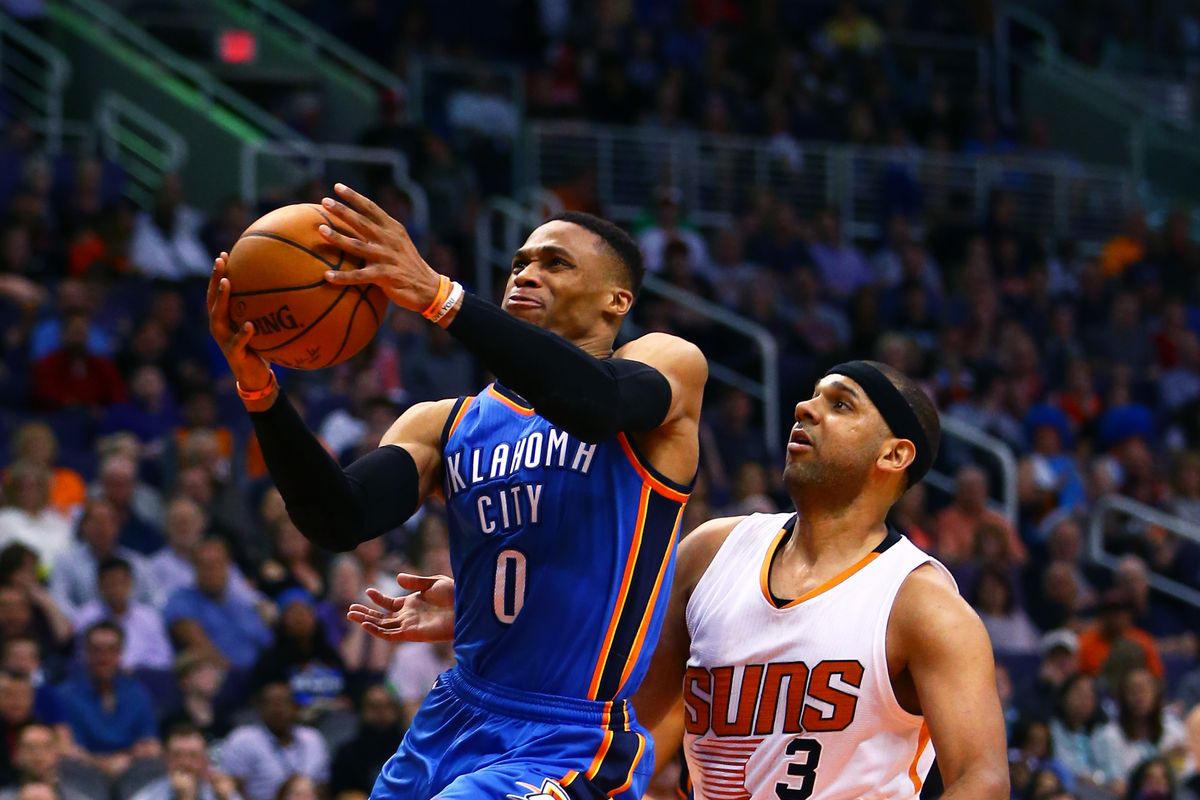 Oklahoma City Thunder vs. Phoenix Suns – 4/7/17 Free NBA Pick
Friday night's game between the Oklahoma City Thunder and Phoenix Suns could be about OKC's opportunity to possibly move into the fourth spot in the Western Conference, if they can win their four remaining games and get a little lucky. But in today's NBA, it's not about that at all. Really, all eyes will be on an individual player – Russell Westbrook, who is seeking to set the one-season record for the most triple-doubles. So you might be able to say that his individual quest will begin at 10:05 PM ET at the Talking Stick Resort Arena, and BetAnySports customers can get props on that, along with the opportunity to place wagers even after the opening tip, as they take advantage of what Live Betting Ultra has to offer.
Oklahoma City is the sixth seed in the West right now, and they are pretty secure in that, although they trail Utah, the #4 team, by three games and still have a mathematical chance to get into fourth-place, with the home-court advantage in the first round that accompanies it. The fact that they are in the playoffs is admittedly a credit to Westbrook, who has pretty much taken on the offense all by himself, after Kevin Durant left town to join the Golden State Warriors. Westbrook is the league leader in scoring and in the "Usage" figure, which measures the amount of plays that an individual is involved in. He has also taken more shots than anyone in the league, but you can probably guess that already.
In the NBA betting odds posted on this game by the folks at BetAnySports, Oklahoma City is laying points:
Oklahoma City Thunder -8
Phoenix Suns +8
Over 227.5 points -110
Under 227.5 points -110
Looking back, it is kind of amazing that Westbrook lasted until the fourth pick of the 2008 NBA Draft. Derrick Rose was the number one pick by the Chicago Bulls, and he has at least gone on to win the MVP award. But Michael Beasley and O.J. Mayo, who have had modest NBA careers, were taken ahead of Westbrook. Now he is on the cusp of passing one of the game's all-time greats, Oscar Robertson, for the triple-double record.
On the other side are the Suns, who are on a 13-game losing streak at the moment. They have generally played at a pace that is faster than their opponents, and obviously that results in more possessions, which generally advantages whoever is playing them. But we have to mention to BetAnySports patrons that they have play pretty tough against Oklahoma City this season. The first meeting, in which Westbrook got 51 points and his triple-double, the first player since Kareem Abdul-Jabbar to do that in a 50-point game, OKC had to go to overtime to secure a 113-110 win. The December 17 game was a little less competitive, as Westbrook racked up 22 assists in a 114-101 victory, but then Phoenix emerge victorious the last time these teams played, on March 3, despite 48 points and 17 rebounds from Westbrook. Part of the Thunder's problem is that they throw the ball away a lot; they committed 54 turnovers in those games, and Westbrook is the second-most error-prone player in the league this season.
At BetAnySports, you get reduced juice, which gives you a lot more value in your NBA basketball betting odds, and you can continue to place wagers even after the opening whistle with Live Betting Ultra….Also keep in mind that there are multiple ways to open up an account, including your Visa card, person-to-person transfers and Bitcoin, and easy transaction with their automated system which also brings absolutely no transaction fee!