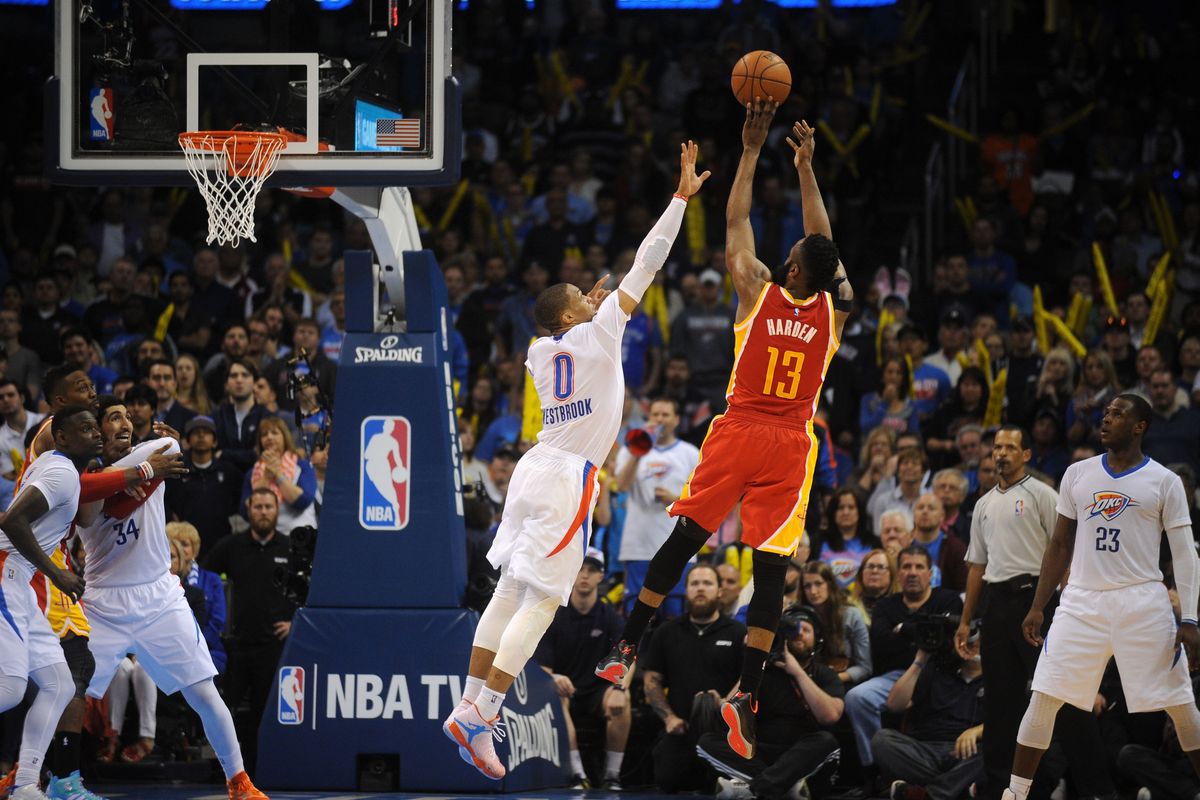 Oklahoma City Thunder vs. Houston Rockets Game 1 – 4/16/17 Free NBA Pick
The balloting for the Most Valuable Player award has taken place already in the NBA, so how they do in their Western Conference playoff series won't have a bearing on who wins the trophy. But they are still in the court of public opinion, aren't they? They will square off with plenty on the line starting on Sunday at 9 PM ET at the Toyota Center in Houston, as the Rockets play host to the Oklahoma City Thunder in Game 1 of the Western Conference playoffs. Remember that if you are a BetAnySports customer, you can continue the action even after the opening tip, as you access all that is available through Live Betting Ultra.
We don't necessarily need to regurgitate the statistics of Russell Westbrook and James Harden. Suffice it to say that Westbrook led the league in scoring, while Harden led the league in assists, and that Westbrook became a triple-double machine this season, putting up 42 of them, breaking the all-time record that was formerly held by Oscar Robertson. But he sometimes tends to take on too much of a burden by himself, so if Houston's Patrick Beverley, a member of the NBA's all defensive team, can harass him enough, he might be forced into taking some bad shots and that would definitely alter what happens here.
Houston is more likely to spread the ball around, even though Harden is going to have the ball in his hands and awful lot. Mike D'Antoni advocates a very wide-open approach, and he's got a number of guys who can shoot. In fact, the Rockets set an NBA record for most three-pointers attempted and made this season. Whether Oklahoma City can defend the perimeter is going to be a big question here. In the two games that were held in Houston between the squads, the Rockets hit 57% from beyond the arc. That is unacceptable.
As far as the records are concerned, Houston, which was the eighth seed in the West last season, elevated themselves to the #3 spot this year, with a record of 55-27 (42-39-1 ATS). Oklahoma City was 47-35 straight-up and 45-36-1 against the basketball pointspread.
In the NBA playoff odds posted on this game by the folks at BetAnySports, Houston is the favorite:
Houston Rockets -7
Oklahoma City Thunder +7
Over 227.5 points -110
Under 227.5 points -110
One of the keys to this game might also be how well Houston can deal with Oklahoma City underneath. The Thunder has some muscle, and they can exploit it, as they were best in the NBA in offensive rebounding the season. That's one area where the Rockets may have some weakness. Most NBA playoff bettors got acquainted with Steven Adams last season, as a tough guy who could really bang, and he is complemented by Enes Kanter, who is more of a finesse guy, and not much as far as defense is concerned, but a rather talented scorer who only averaged 21 minutes per game, but scored 14.3 points per contest. And then there was the key trade with Chicago Bulls, in which they dealt away Cameron Payne in exchange for Taj Gibson, who fulfills an enforcer role up front, and Doug McDermott, who knows how to dial long-distance.
But you want to talk about critical individuals on the OKC side, BetAnySports patrons would be well-advised to keep an eye on Andre Roberson. He's the guy who will be designated to deal with Harden, and he did a pretty good job of it this season. In fact, in the four meetings between the squads, Roberson, when guarding Harden, held him to just 10-33 from the field (30%) and just 2-14 from three-point territory. Harden obviously has something of an equalizer, in the respect that he can get to the free-throw line with a great deal of frequency. And Houston did manage to win three of those four encounters, but aside from the last meeting, where Lou Williams came of the Houston bench to score 31 points in a double-digit victory, the other three were decided by a total of seven points. That, and the playoff experience on the part of Oklahoma City, which took Golden State to seven games last season after upsetting San Antonio, along with their ability to get more physical, leads us to believe they can keep this game very very close.
BetAnySports gives you a great deal of incentive during this NBA playoff season, including reduced juice, which gives you more value in the basketball betting odds…… Remember that you can stay involved even after the game has started, thanks to Live Betting Ultra, and there are several ways to make a deposit, including the virtual currency of Bitcoin, which is fast and easy with their automatic system, and never, EVER incurs a transaction fee!