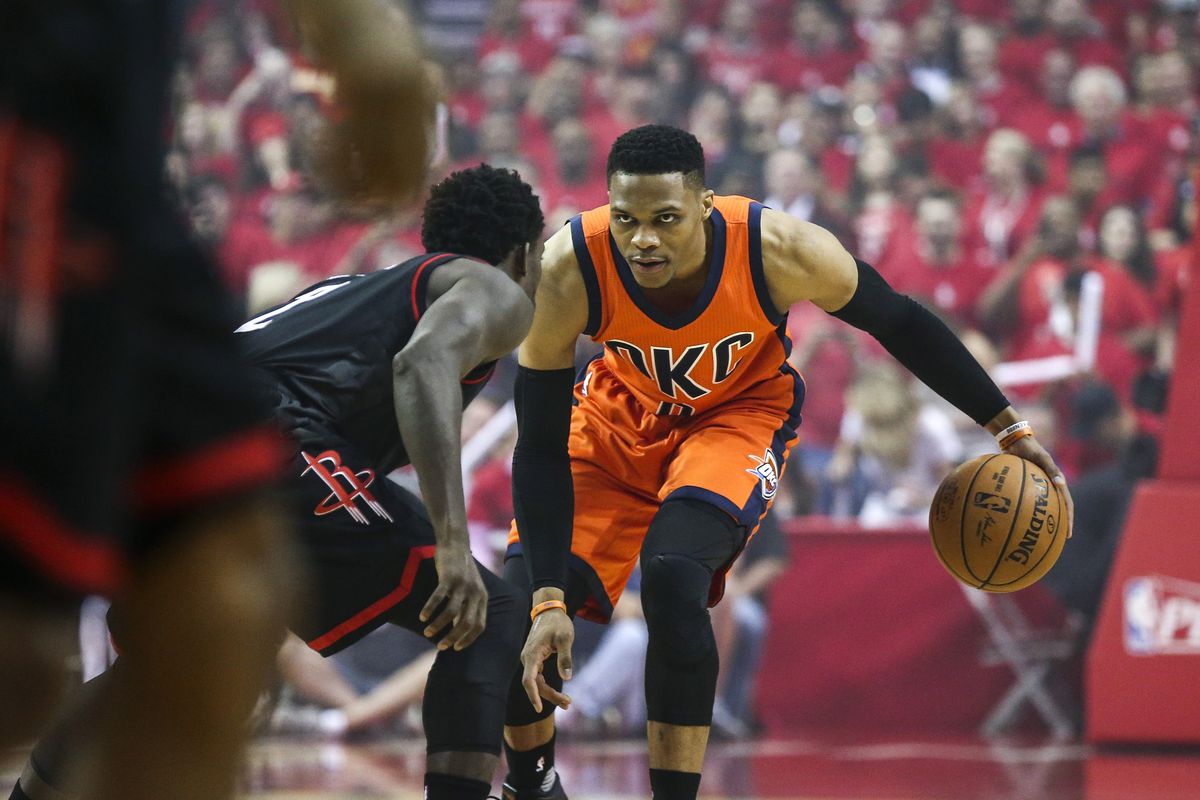 Houston Rockets vs. Oklahoma City Thunder Game 3 – 4/21/17 Free NBA Playoff Pick
The Houston Rockets have thus far demonstrated more versatility in their offense, and  an ability to force Russell Westbrook into poor shots, and until that kind of situation is reversed, the Oklahoma City Thunder are going to have a very difficult time getting back into this series. Game 3 of the Rockets vs. Thunder is set for Friday night at 9:30 PM ET at the Chesapeake Energy Arena, and BetAnySports customers will have the opportunity to place wagers even after the game tips off, as they take advantage of what is available through Live Betting Ultra.
Houston has won the first two games. The first one was pretty easy, as they glided to a 118-87 decision, holding Westbrook and is backcourt mate, Victor Oladipo, to just 7-35 from the field, and the Thunder  to 37% as a team. Meanwhile, Houston got 37 points out of James Harden and a great game from Patrick Beverley, known primarily as a defender, but an all-around force with 8-13 shooting and 10 rebounds.
The pace has been brisk, but not necessarily so conducive to what Houston does that it's going to blow Oklahoma City out of the water. The Rockets have just flat outplayed OKC.
In the NBA betting lines posted on this Western Conference playoff game by the people at BetAnySports, the Thunder is a slight favorite at home:
Oklahoma City Thunder -2.5
Houston Rockets +2.5
Over 224 points -110
Under 224 points -110
Game 2 was a little different story than the opener; it looked as if OKC was going to get back into the series with this one, as they led Houston by 15 points at one juncture. And with three minutes left in the third quarter, the margin was at a dozen. But Houston whittled away at it, eventually overtaking the Thunder and forcing them into a bunch of bad shots. In fact, OKC hit only 24% of its attempts in the final stanza, and even though Westbrook had 51 points and the triple-double, you have to lay some of the blame at his feet. He had another horrible shooting night, converting only 17 of his 43 field-goal attempts, including a wretched 2-11 from three-point territory. Harden, who gets to the line as well as anybody, mate 18 of his 20 free-throw attempts, and the Rockets got 43 combined points from Eric Gordon and Lou Williams off the bench.
BetAnySports patrons who are trying to look on the bright side for OKC will point out that the Thunder had 20 second-chance points in Game 2, and they will use the logic that Westbrook simply has to shoot better at some point. But is that really the case? We know that a player who dominates his offense as much as Westbrook does (he took 44% of their shots, with an insane 54.8 Usage figure in Game 2) can take down the entire attack if you force bad shots out of him. That definitely appears to be what he is doing, and it does not help that one of the viable offensive alternatives – Oladipo – is hitting only 19% thus far.
Oklahoma City is probably the worst three-point shooting team in the NBA, and they have been below 44% overall in each of the last seven games. In other words, if their game inside the arc isn't working, they've got a lot of trouble.
BetAnySports gives you a tremendous free play bonus for signing up, and then you'll get reduced juice to afford you better NBA betting odds…… You'll be able to bet in real time using the software from live Live Betting Ultra, in there are a number of ways to open up an account, including your Visa card, person-to-person transfers and the virtual currency of Bitcoin, which is fast and easy with their automated system!