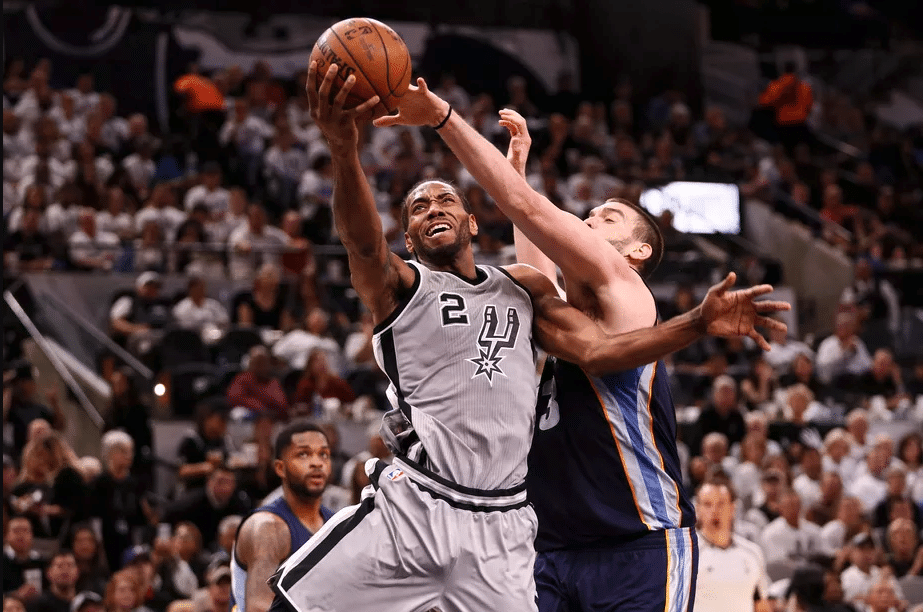 Memphis Grizzlies at San Antonio Spurs Game 5 – 4/25/17 Free NBA Playoff Pick
The Memphis Grizzlies looked badly beaten after the first two games of their Western Conference playoff series against the San Antonio Spurs, but they came back big in the next two games, including an overtime victory in Game 4. Now they are tied up at two games apiece as they meet at 9 PM ET at the AT&T Center in San Antonio. BetAnySports customers will have the opportunity to place wagers in real time on this game, as they access the state-of-the-art software supplied by Live Betting Ultra.
San Antonio rolled to double-digit victories in the first two games, holding Memphis to just 82 points in each of them. But one thing people had to remember as this series shifted to the FedEx Form is that Memphis beat San Antonio in both meetings when they were on their home floor. And they did the same thing here. On Sunday, Kahii Leonard notched a career-high 43 points, including the last 16 in regulation for the Spurs, and Memphis committed 23 turnovers, 18 of them after halftime, but they still got the 110-106 victory. The star of the game was Mike Conley, who finished just short of a triple-double, with 35 points, nine rebounds and eight assists. These two victories for the Grizzlies came after the tirade coach David Fizdale threw after Game 2, when he complained about the officiating to the extent that he was fined $30,000.
In the NBA playoff betting odds posted on this game by the folks at BetAnySports, the Spurs are double-digit favorites:
San Antonio Spurs -10
Memphis Grizzlies +10
Over 187 points -110
Under 187 points -110
Leonard, who was the NBA Finals MVP the last time San Antonio won the championship, has been absolutely dominant in this series, averaging 32.5 points on 58% shooting. He has also made all 40 of his free-throw attempts. This is a different Spurs team that it has been in the past, where ball distribution was the key, and one player did not dominate the scoring. In fact, San Antonio, aside from Leonard, didn't shoot all that well in Game 4, hitting only 40% of their attempts from the floor and only two of 20 from three-point range.
And it may surprise some BetAnySports patrons that Memphis actually has the 76-62 edge in assists. This is a game being played at the kind of pace Memphis usually likes (86.5 possessions per 48 minutes), and they are benefiting from the fact that not all of the Spurs' stars show up every night. And that is surprising for a Gregg Popovich-coached squad. For example, Tony Parker had 22 points and five assists in Game 4, but he went without a point or and assist in the previous game. LeMarcus Aldridge had only 13 points and two rebounds on Sunday. Danny Green has been plagued by poor shooting throughout the series, hitting just four out of 17 from the arc. Still, Memphis is a different creature when they go on the road; over the last two post-seasons, they have shot just 37.1% as the visitor.
BetAnySports has a lot of benefits for the incoming player, including a generous free play bonus, in addition to reduced juice, which will give you better NBA playoff odds…… You can stay in the action even after the opening tip, utilizing the state-of-the-art software from Live Betting Ultra, and there are many ways to make a deposit, including your Visa card, person-to-person transfers and the virtual currency of Bitcoin, which never, ever incurs a transaction fee!