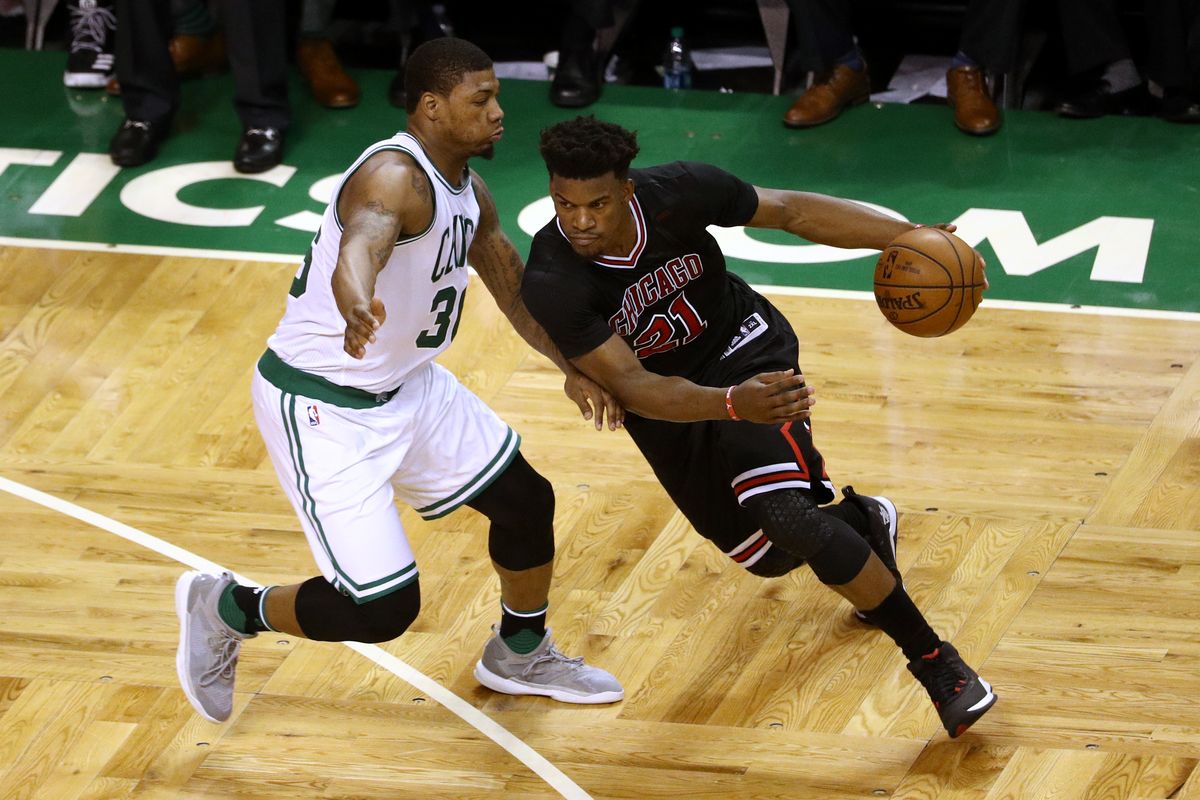 Boston Celtics at Chicago Bulls Game 3 – 4/21/17 Free NBA Playoff Pick
There were more than a few people who questioned whether the Boston Celtics were really as good as their #1 seed in the Eastern Conference. There were perceived weaknesses on this team, including a shortage of scorers and rebounders. In a way, that makes it look like even more of a remarkable job by coach Brad Stevens. On Friday night, the Celtics will try to pick up a victory against the Chicago Bulls, after losing the first two games of the series at home. This one will get underway at 7 PM ET at the United Center in the Windy City, and BetAnySports patrons, who get reduced juice on the odds before the game starts, can stay involved in the action even after the opening tip when they access that which is available through Live Betting Ultra.
So far the story in the first two games has been the imposing presence of Chicago on the boards, and with its veterans, who have succeeded in the past under the bright light of the playoffs. We are talking about the guys who are known as "The Three Alphas," who are guards Dwyane Wade and Rajon Rondo, as well as forward Jimmy Butler.
Butler has 52 points, 17 rebounds and 11 assists in the two games thus far, while Wade, who scored eleven fourth-quarter points in Game 2, is shooting 46.4% from the field. Rondo is just 0-6 from three-point territory in the two games, but he has a ratio of 20 assists to only four turnovers, and he has also pulled down 17 rebounds in the first two games. Robin Lopez is emerging as a force to be reckoned with as well. He is shooting 70% with 18 rebounds, a dozen of them on the offensive glass.
In the NBA playoff betting odds posted on this game by the folks at BetAnySports, the Bulls are the favorites at home:
Chicago Bulls -1.5
Boston Celtics +1.5
Over 207.5 points -110
Under 207.5 points -110
Boston, of course, is dealing with the tragedy that happened to its best player. Isaiah Thomas' sister was killed in a car accident on the day before Game 1, and although he has played well, making 16 of his 33 field goals, he has not had the support of his teammates around him. Avery Bradley, for instance, is only 10-28 from the field, but it's tough to take him out of the game because they need him for his defense. The Celtics have made just 25 of their 38 free throws (66%), and aside from Thomas, they have only 13 attempts from the charity stripe. Between Thomas and Bradley, they have 13 assists, but 17 turnovers.
BetAnySports patrons know that Stevens has to figure out a way to contain Lopez and his mid-range shooting, while at the same time produce someone who can take the pressure off Thomas, who has been facing multiple defenders throughout the two games. So there is speculation that Stevens will fiddle around what is starting lineup, and one of the possibilities might be Jonas to Revco, the 6-9 forward who averaged about 16 minutes per game this season but has only seen four minutes of action thus far. He can shoot a little, and he's an athletic defender. Clearly this team has to do something.
And composure is an issue as well. Marcus Smart, who had 13 points and eight rebounds in Game 2, has been fined $25,000 by the NBA for an obscene gesture he made to a fan in the closing minutes of the contest. Somebody has to step up, so that the things Thomas is capable of doing in the final quarter can really mean something.
BetAnySports gives you reduced juice, so you'll get better NBA playoff betting odds, and there is plenty of action to be had when you access the state-of-the-art software from Live Betting Ultra…… Remember that you can open up an account using your Visa card, person-to-person transfers and the virtual currency of Bitcoin, which never, ever incurs a transaction fee!