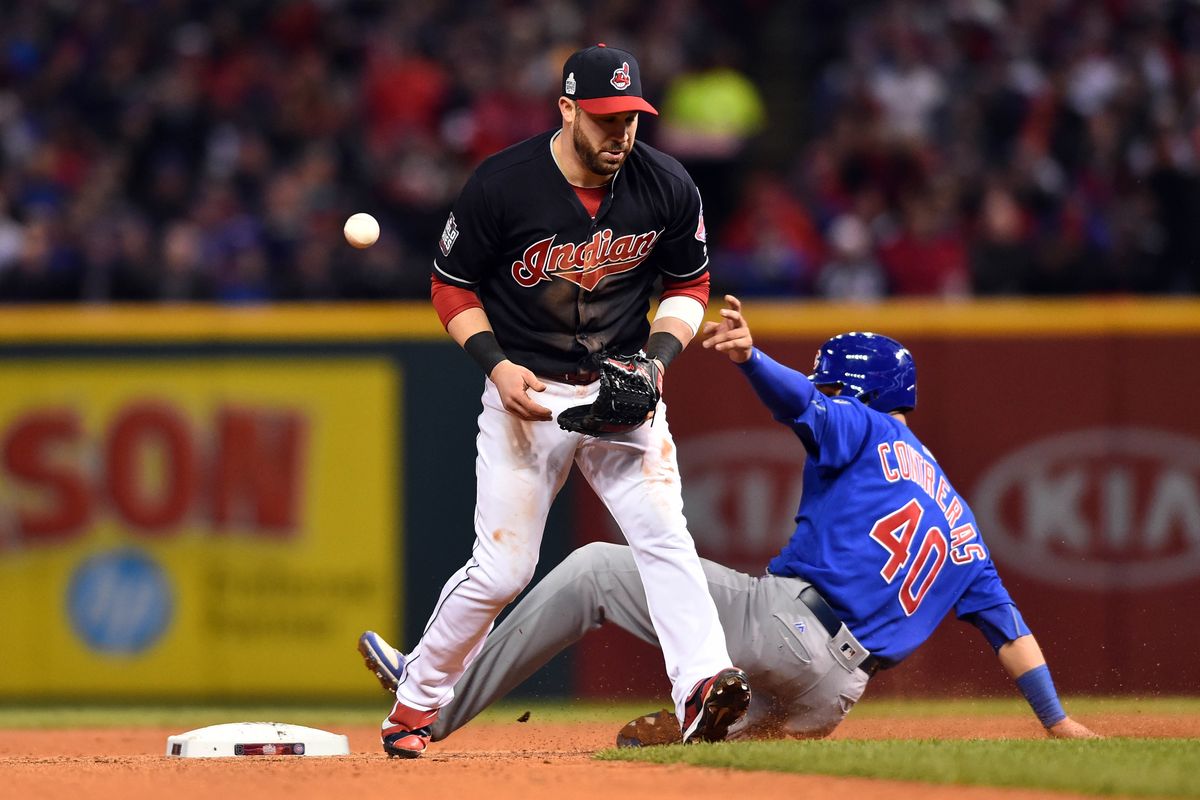 World Series Game 7 Betting Preview: Chicago Cubs at Cleveland Indians
The very fact that this is November and we are playing the World Series is kind of strange. So does that mean we are looking for someone to become "Mr. November" all of a sudden? A pretty good candidate for that emerged in Tuesday's emphatic Game 6 victory for the Chicago Cubs over the Cleveland Indians, which forces this seventh and deciding game. Addison Russell, the shortstop who is ticketed for greatness in the opinion of some, certainly reached it for one night, as he tied a World Series record for most RBI in a game with six, and he isn't even the Cubbie swinging the hottest bat as we get to this "winner-take-all" matchup, slated to begin at 8 PM ET at Progressive Field. Remember that if you are a BetAnySports customer, you can keep the action going even after the opening pitch, using what is available through the magic of Live Betting Ultra.
Cleveland manager Terry Francona, as has been his intention all along, will send out Corey Kluber, the 2014 Cy Young winner who has been so sensational for his team in the post-season, where he has a 0.89 ERA. Kluber will be looking to duplicate what Bob Gibson did for the St. Louis Cardinals in 1967, which is to start and win the first, fourth and seventh game of a World Series. And he would put himself in line for the Series MVP; that is, unless one of the team's brilliant relief pitchers gets that award instead.
Kyle Hendricks will take the mound for the Cubs, and he will be looking to extend his scoreless streak, which stands at 15 innings at the moment. He's formidable, quite obviously, and the Indians could have had better luck than to have drawn the major leader leader in ERA for this all-in game. What Joe Maddon would like to do is have him hand the ball to Aroldis Chapman around the seventh or eighth inning, something that could be risky is Chapman is a little spent from last night's outing, where he threw just 20 pitches but may have tweaked his ankle.
Despite what he has done for the Indians, Kluber is still an underdog at home, according to the World Series Game 7 odds at BetAnySports:
Chicago Cubs  (Hendricks – R)  -118
Cleveland Indians (Kluber – R)  +108
Over 6.5 Runs  -115
Under 6.5 Runs  -105
If Chapman falters (he threw only eleven of his 20 pitches for strikes last night), everybody will second-guess Joe Maddon as to why he put his closer in the game with a five-run lead. On Tuesday night, the Cubs took advantage of the fact that Josh Tomlin was pitching on three days' rest and pounded him early. He only last 2-1/3 innings and then Russell launched one for the first World Series grand slam in Cubs' history. Kris Bryant had four hits in the game, while Anthony Rizzo, who went three-for-five, raised his Series average to .364. The Cubs have gone 6-for-20 with runners in scoring position over the last two games.
BetAnySports patrons know that Kyle Schwarber is going to be a factor as long as he's in the lineup, and he'll be there as the designated hitter. Schwarber hit second in the lineup, as Maddon thought that he could use some "protection." When you have Bryant and Rizzo, as well as Ben Zobrist, hitting .391 in the Series, coming behind you, it constitutes protection.
Cleveland's relief pitchers are obviously a big factor, and Francona kept them out of Game 6 once things got out of hand, so they are very fresh here. Andrew Miller has allowed one run in 17 innings in the post-season. Cody Allen's slate is completely clean over an 11-2/3 inning span. These guys could occupy as much as 40% of Chicago's at-bats; maybe even more.
Hey, there's no tomorrow.
If you are looking for some great value in your sports betting experience, the place to go is BetAnySports, where you can take advantage a great free play bonus, in addition to reduced juice, which tightens up that line pretty good when it comes to Game 7 of the World Series!……..Keep in mind that there are a number of ways to deposit, including your Visa card, person-to-person transfers and the virtual currency of Bitcoin, which is fast and easy with their automated system!