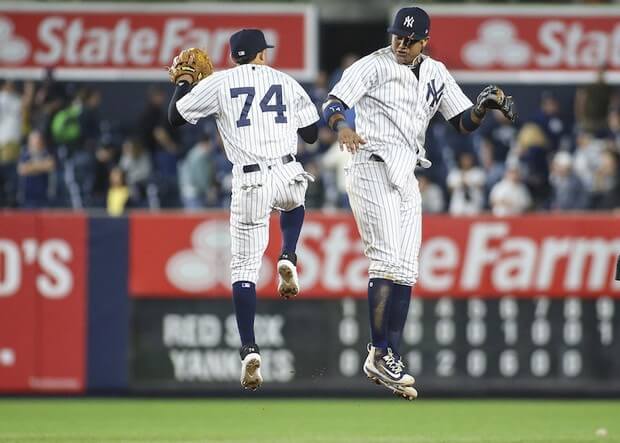 MLB BetAnySports Hot/Not Betting Update-
The MLB regular season just wrapped up its first weekend in the month of August and the biggest story on the betting board at BetAnySports is the Boston Red Sox coming off a four-games sweep at home against the bitter rival New York Yankees.
The Red Sox outscored the Yankees 28-13 in that series to open up a commanding 9.5-game lead over New York in the AL East. Boston is 79-34 overall after winning eight of its last nine games. The total has stayed UNDER or ended as a PUSH in 13 of its last 17 games. The Red Sox kick off a nine-game road trip on Tuesday night with Game 1 of a three-game series against Toronto.
The Cleveland Indians have won seven of their last 10 games to maintain a nine-game lead over Minnesota in the AL Central Division race. They are 61-49 overall coming off a 2-1 series victory against the Los Angeles Angels at home. After losing the opener 7-4 as heavy -260 favorites with BetAnySports, the Indians won the next two games by a combined score of 7-3. The total stayed UNDER in both of those contests and it has stayed UNDER in six of Cleveland's last eight games. This week, the Indians will look to expand that lead in a four-game series at home against the Twins.
The Houston Astros' lead over Oakland (67-46) in the AL West stands at four games. The Astros (71-42) have gone 4-6 in their last 10 games to give up some ground to an Athletics ball club that is 7-3 over the same span of games.
The Philadelphia Phillies (63-48) and the Atlanta Braves (60-48) continue to set the pace in the NL East with Washington six games back. The Phillies swept Miami 4-0 this weekend while outscoring the Marlins 23-9. The Braves took three of four from the New York Mets on the road to improve to 6-1 over their last seven games. Philadelphia travels to Arizona for its next three games while Atlanta stays on the road for four games against the Nationals.
The Chicago Cubs (64-47) hold a one-game lead over the Milwaukee Brewers (65-50) in the NL Central with each team coming off a loss in their series finale on Sunday. The NL West remains the tightest race on the board with Arizona and the Los Angeles Dodgers tied for first place at 62-51. Colorado is just two games off the pace at 59-52 and the San Francisco Giants remain in the hunt at 57-56.