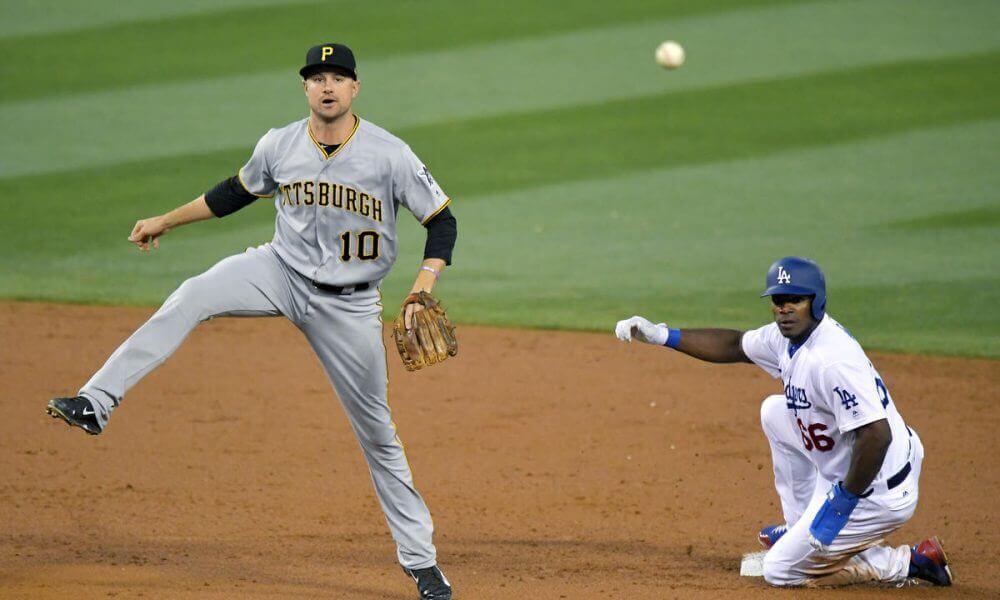 Pittsburgh Pirates at Los Angeles Dodgers – 5/9/17 Free MLB Pick
Do baseball teams react to getting embarrassed? Well, if they do, expect that the Pittsburgh Pirates might come out like a house afire on Tuesday for their game against the Los Angeles Dodgers, which is scheduled to get underway at 10:10 PM ET at Dodger Stadium. Remember that at BetAnySports, you get reduced juice before the game starts, and then get to continue with the action as you take advantage of what Live Betting Ultra has to offer, with real time wagering as things unfold.
The Pirates really took it on the chin on Monday night, losing 12-1 to the Dodgers, and that brought their road record to 6-11, while the Dodgers are 11-6 in their home environs. Currently the Pirates (14-18) are the last-place team in the National League Central, 3.5 games behind the St. Louis Cardinals, while the Dodgers (18-14) are making a move in the NL West, with eight wins in their last ten games to move into second place and pull to within two games of the Colorado Rockies. Yes that's right – the Colorado Rockies.
Taking the mound for the Dodgers is 20-year-old Julio Urias, who was held out of the very early going as the team extended his spring training. Truth is, they don't want to put too many innings on his left arm. He has not gotten a decision yet, but has a 0.84 ERA.
The starter for the Pirates is the very intriguing Ivan Nova, who has been like a new man since coming to the Steel City from the Yankees. Despite a loss to the Cincinnati Reds in his last outing, Nova has still established himself as one of the early candidates for the Cy Young Award, with a 2.14 ERA and 0.88 WHIP ratio that makes his 3-3 record very deceiving.
In the baseball betting odds that have been posted on this game by the folks at BetAnySports, the Dodgers are sizable favorites with Urias on the mound:
Los Angeles Dodgers (Urias) -173
Pittsburgh Pirates (Nova) +163
Pirates +1.5 Runs -145
Dodgers -1.5 Runs +125
Over 7 Runs -125
Under 7 Runs +105
Nova, who was fourth in the AL Rookie of the Year balloting in 2011, had struggled through about 2-1/2 rough years with the Yankees when he was traded to the Pirates last August. And he experienced an almost immediate change of fortune. Some would attribute much of this to Pittsburgh pitching guru Ray Searage, who has done wonders for other pitchers, including JA Happ, Francisco Liriano, AJ Burnett and Charlie Morton. The Pirates take something of a different approach than other major league teams, and though it is kept very secretive, most who have been exposed to it can attest to its effectiveness.
And so we are going to give you a rather amazing statistic – since he joined up with the Pirates, Nova has five complete games and given up four walks. When you think about how rare complete games are, this is nothing short of astonishing. BetAnySports patrons should certainly take this into account when evaluating Nova's viability as an underdog.
What they may also want to think about is that while Urias has given up a single run in 10-2/3 innings, he has yielded eight walks, or double what Nova has allowed in 106-2/3 innings since arriving in Pittsburgh. They seem to have limited Urias to 90 or so pitches, so you can expect that the Dodger bullpen will be called upon for extended duty. They have been very sharp in Dodger Stadium this season, with a 2.08 ERA. Though some teams have managed to hit Nova later in the game, he has a 0.50 ERA and 0.39 WHIP ratio in the first three innings of his starts, which obviously means that he has his best stuff early on. Maybe this should give some MLB bettors ideas about those "Who'll score first" props.
BetAnySports has a great free play bonus waiting for you, along with reduced juice, which will give you better odds when you make your baseball betting picks……..Live Betting Ultra will keep you very much in the action after the game begins, and you've got variety when it comes to opening up an account, as you can usee a Visa card, person-to-person transfers or the virtual currency of Bitcoin, which never, ever incurs a transaction fee!