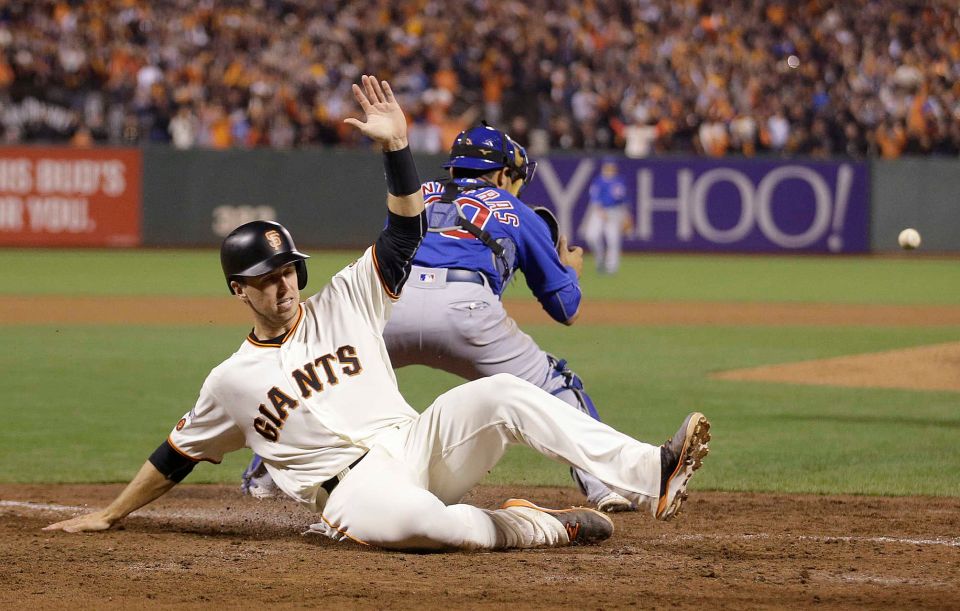 Chicago Cubs vs. San Francisco Giants NLDS Game 3 Preview
The Chicago Cubs are off to a 2-0 lead in the National League Divisional Series, and the San Francisco Giants, who have won three World Series titles in the last six seasons, have their backs against the wall as they face elimination. And well, they couldn't be in better shape for staying alive than to be able to turn to their best starting pitcher, who also might be the best pressure pitcher of our generation. Game 3 of this series will begin at 9:35 PM ET at AT&T Park in San Francisco, and things are going to get very exciting for customers at BetAnySports, who have a chance to place wagers on the game even after the opening pitch, as they take part in a real-time challenge of the MLB playoff odds through the facilities of Live Betting Ultra.
In this do-or-die situation, the entire Giants' roster is happy to get in the foxhole with Madison Bumgarner, who seems to be able to get them a post-season win, or at least a great performance, when they need it. Remember that this is a team that had to fight hard to even get a playoff spot after going into a near-freefall following the All-Star break. They were lucky to have Bumgarner available for that Wild Card Game against the New York Mets, against whom he has a 0.62 career ERA at Citi Field. He shut down the Mets and allowed his team to advance to the NLDS.
Jake Arrieta, who was 18-8 with a 3.10 ERA this season but won the Cy Young in a brilliant 2015, is the starter who will try to wrap things up for the Cubs and try to send them to the NLCS. He's got to bounce back from a rough outing against the Pittsburgh Pirates twelve days ago, as he gave up seven runs in five innings.
In the MLB playoff odds that have been posted on this game by the folks at BetAnySports, the Giants are favorites with their ace on the mound:
San Francisco Giants (Bumgarner – L)  -125
Chicago Cubs (Arrieta – R)  +115
Under 6 Runs  -115
Over 6 Runs  -105
The Giants were very much in the running, at least for a split, for the games that were played at Wrigley Field. In Game 1, Johnny Cueto pitched extremely well, allowing only three hits but losing a 1-0 decision when Javier Baez hit a solo homer off him in the eighth inning. In Game 2, Chicago got off to a 4-0 lead and wound up getting RBI's from pitchers – starter Kyle Hendricks had a two-run single, and later, relief man Travis Wood hit a solo homer. Bumgarner got into the game as a pinch hitter, reaching on an error.
The Cubs know that they are going to have their work cut out for them if they are going to finish off a sweep of this series, and undoubtedly BetAnySports patrons know the same thing. Bumgarner beat the Cubbies twice this season, and he has a 0.79 ERA in his last nine post-season appearances.
What is important to remember is that MadBum is durable; he had a career high in innings pitched this season (226-2/3) and faced more batters than anyone else in the National League. And manager Bruce Bochy, who has too much experience winning championships to be pre-occupied by "going by the book," is not going to be consumed by a pitch count. This is another of those "win or go home" games, and he realizes that he doesn't have anyone in the bullpen who is better, even if they are fresher. Don't be surprised if the big lefty goes the whole route, win or lose. Will the same go for Arrieta, who held batters to a .194 average this season but slumped in the second half? Well, the Cubs have a better bullpen, and that includes the flame-throwing Aroldis Chapman.
BetAnySports goes the distance as well, with a great free play bonus for signing up, along with reduced juice wagering on your MLB playoff odds……..Remember that you can make your deposits with a Visa card, person-to-person transfer or Bitcoin, which is fast and easy with their automated system!