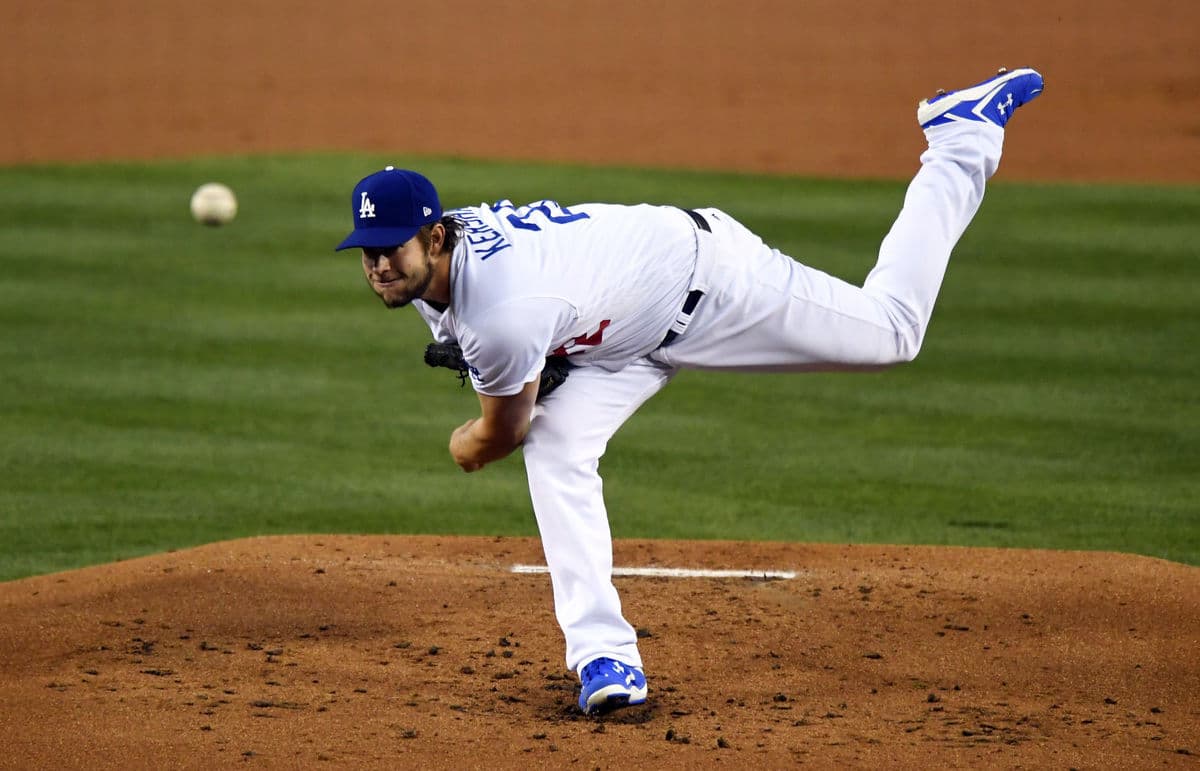 Arizona Diamondbacks at Los Angeles Dodgers – 4/14/17 Free MLB Pick
A couple of years ago, Clayton Kershaw and Zach Greinke combined to create the most devastating 1-2 pitching combo in the big leagues for the Los Angeles Dodgers. After the season, Greinke took the money and ran, as it was being doled out by the Arizona Diamondbacks. When he came back as the visiting pitcher last year, he was pounded mercilessly. He certainly hopes he has a better fate awaiting him on Friday night, as he takes the mound again, with Kershaw as his opposite number, in a game that begins at 10:15 PM ET at Chavez Ravine. Remember that BetAnySports customers have the opportunity to get reduced juice before the game starts, and then, even after the first pitch is thrown, they can stay in the action, and very much so, as they access the state-of-the-art software available through Live Betting Ultra.
Kershaw has worked 13 innings thus far this season, and has yet to give up a base on balls. However, he has done something he's never done in his entire career, which is give up back-to-back home runs, which he did in his last start against the Colorado Rockies, as he was touched in succession by Mark Reynolds and Gerardo Parra. In that game, he threw 100 pitches, which is something he hasn't done in a while, and he did it over only six innings. On opening day against the San Diego Padres, he gave up just two hits over seven innings, and his Dodger teammates hit four home runs in a 14-3 laugher.
On balance, Greinke has gotten off to a better start, because the Diamondbacks have won on both occasions when he's taken the mound. On April 2 against the Giants, he gave up two runs over five innings, and then coming back six days later against the defending American League champion Cleveland Indians, he surrendered only one run over 6 2/3 innings in an 11-2 win. Greinke is officially 1-0, with a 2.31 earned run average, while Kershaw is 1-1 with a 3.46 ERA. Of course, this is a righty-lefty matchup.
In the baseball betting odds that have been posted on this game by the folks at BetAnySports, Kershaw and the Dodgers are considerable favorites:
Los Angeles Dodgers (Kershaw – L) -250
Arizona Diamondbacks (Greinke – R) +230
Dodgers -1.5 runs (-115)
Diamondbacks +1.5 runs (-105)
Over six runs -120
Under six runs +100
Will the Dodgers greet their former teammate in the same nasty fashion they did last September 5? That was when Greinke came to Dodger Stadium and gave up eight runs, including five homers, before being removed in the fifth inning. It was a far cry from what he had been doing a couple of years ago, as he fashioned a 19-3 record and 1.66 ERA in Dodger Blue, and in the minds of many he deserved the Cy Young Award over the eventual winner, Chicago's Jake Arrieta. This was good timing for Greinke, who was going on the free agent market, and he gobbled up the money the Diamondbacks threw him – $206.5 million over six years. Last season, it was safe to say that Arizona did not really get a return on its investment; Greinke did have a 13-7 record, but his ERA (4.37) and his WHIP ratio (1.27) were rather high. He did win his third straight Gold Glove, if that's any consolation.
BetAnySports patrons only saw Kershaw in action once against the D-Backs last season, and he turned in a performance that was more than credible, giving up just five hits and a pair of runs over 7 1/3 innings against them on June 15, registering 11 strikeouts. Paul Goldschmidt, the All-Star first baseman, has hit two home runs against him, but Kershaw has also struck him out 15 times in 41 plate appearances. Arizona has batted a robust .283 thus far this season, which is obviously one reason they are leading the National League West with a 7-3 record. But in their road games, they are hitting only .210. The Dodgers are 5-5 because they haven't scored enough runs in enough games. In fact, they have had three outbursts of double-digits in runs, but in the other seven games they have totaled only ten. But they have the ace on the mound, and that can neutralize just about everything.
BetAnySports gives you the best baseball betting odds around, including five-cent overnight lines, and you get reduced juice to give you a lot more value…… Don't forget that you can place wagers during the game with Live Betting Ultra, and there are plenty of ways to get involved opening up an account, including your Visa card, person-to-person transfers and Bitcoin, the virtual currency that gives you a lot of privacy and confidentiality, and never, ever carries with it a transaction fee!