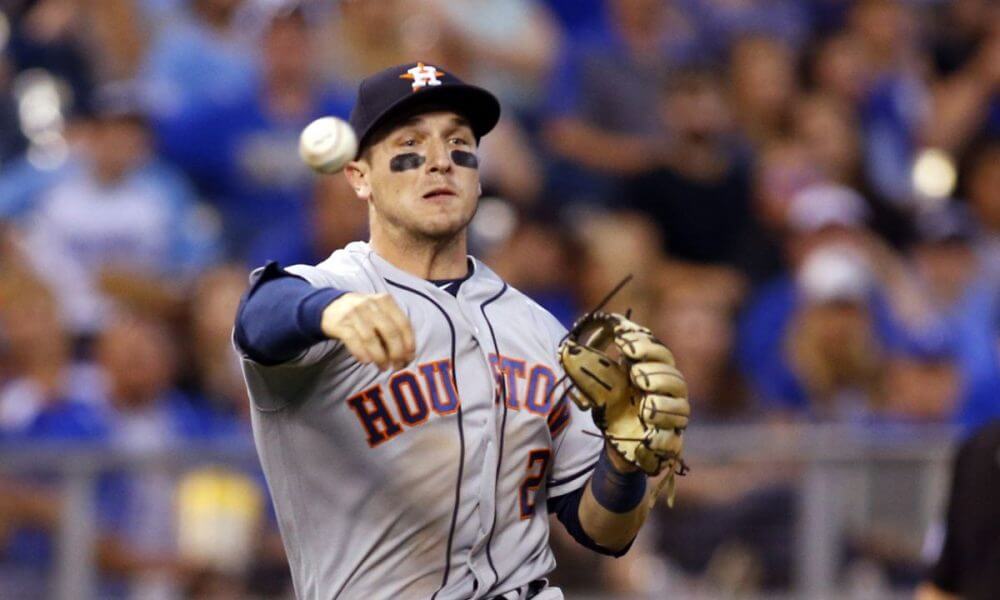 6/8/17 Free MLB Pick
The Houston Astros are really running away with things in the American League West, and that's the kind of thing that's going to happen when you have arguably the best offense in baseball. The Astros, who have lost two out of three games of the Kansas City Royals so far, will try to draw even in this four-game series as these clubs square off at 8:15 PM ET at Kauffman Stadium. Remember that if you are a BetAnySports customer, you get reduced juice before the game starts, and then after the first pitch is thrown, you can stay involved with the action as you take advantage of the state-of-the-art software from Live Betting Ultra.
The Astros, led by general manager Jeff Lunhow, were considered very radical in the way they used analytics, even in an era that is rapidly becoming dominated by the numbers-crunchers. They stumbled a lot at first, but they are demonstrating that what they do really works. A 42-18 record is no accident, and they lead the division by 12 games over the Seattle Mariners.
Only a couple of years ago, the Kansas City Royals were the World Series champions. But now they have to think about rebuilding, if they can't put a rally on to gain a playoff spot. They are actually only 4.5 games out of the lead in the American League Central, but they are six games under the .500 mark, and the Cleveland Indians, the defending American League champions, have yet to show their best stuff yet. So will Kansas City be trading away some of its players, including Eric Hosmer, before the deadline? The pitchers for Thursday are both right-handers. Jason Hammel, who won 15 games with the world Champion Chicago Cubs last year, hasn't found much success in the current campaign, with a 2-6 record and 5.93 ERA, and he will be opposed by Lance McCullers, who has been a standout member of the Houston rotation (6-1, 2.718).
In the baseball odds that have been posted on this game by the people at BetAnySports, Houston is the considerable road favorite:
Houston Astros (McCullers) -189
Kansas City Royals (Hammel) +179
Astros -1.5 Runs -120
Royals +1.5 Runs +100
Over 9 Runs -110
Under 9 Runs -110
The Astros have scored more runs than anyone in the major leagues, and they also lead all of MLB in hits, homers, slugging and OPS, so they are going to be a threat to any pitcher who is not bringing his A-game to the table. And Hammel fits that category, as he is experiencing problems like he hasn't had since his first full season in the bigs. His figure on hits allowed per nine innings is his highest since 2007, and he gets a lot weaker as he continues. In the first two innings of his starts, he has had reasonable success, but he has yielded a .314 average from innings 3-5. That isn't going to fly here.
McCullers is admittedly coming off a start where he had a difficult go of it, as he didn't get through five innings against the Texas Rangers. But he's allowed a hiccup now and then; he was a very rough customer leading up to that, giving up two runs over his previous 30 innings, keeping pace and then some with Dallas Keuchel, who looms as a candidate for a second Cy Young Award but missed his start against the Royals on Wednesday with an illness. The Astros are scoring 6.7 runs a game on the road, which is the principal factor in their MLB-best 22-8 road record. Meanwhile, the Royals are tallying just 3.8 runs a game in their in their home stadium. So yes, they have their work cut out for them.
BetAnySports gets things going for you early with a free play bonus and reasonable rollovers, and they keep you happy with reduced juice, which offers better baseball betting odds…… Remember that even after the first pitch is thrown, you can stay in the action with Live Betting Ultra, and you got a lot of different ways to make a deposit, including your Visa card, person-to-person transfers and the virtual currency of Bitcoin, which is fast and easy with their automated system, and never incurs a transaction fee!