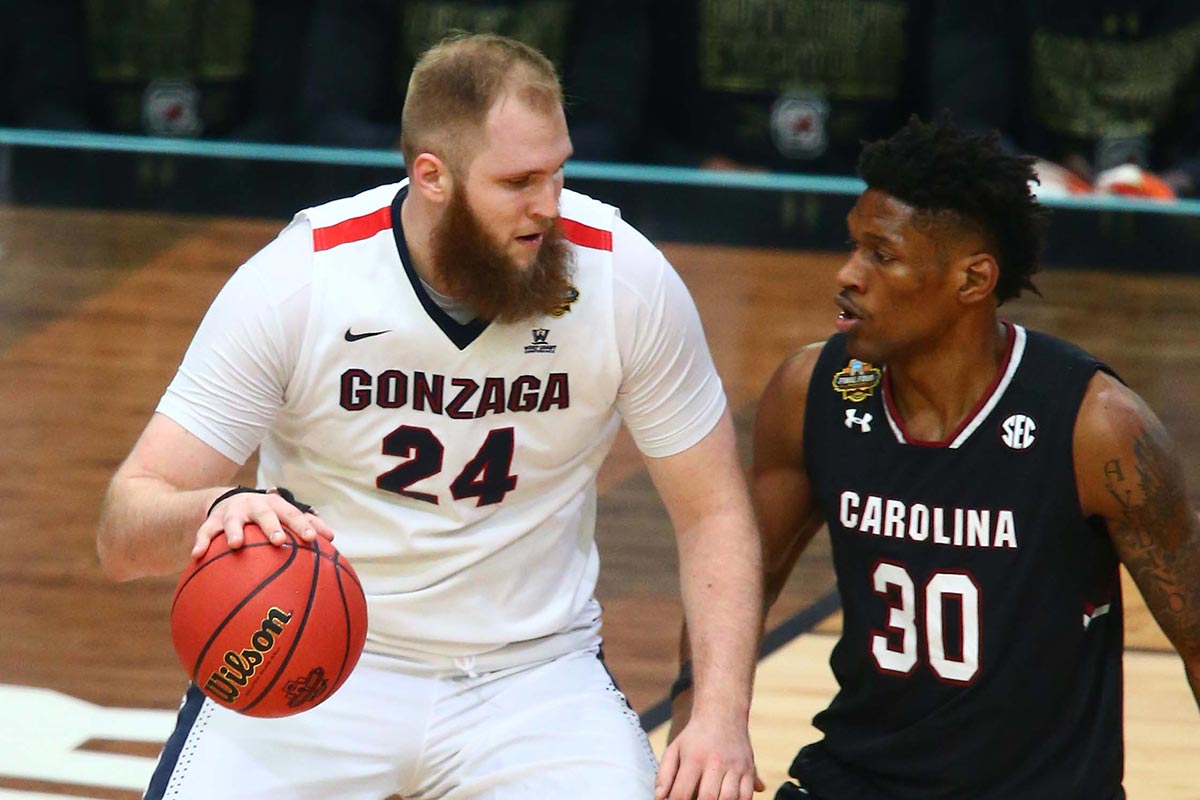 South Carolina vs. Gonzaga – 4/1/17 Free College Basketball Pick
Neither the Gonzaga Bulldogs or the South Carolina Gamecocks have ever been to a Final Four, but one of these teams will be playing in the national championship game on Monday night. You can expect a defensive struggle as these schools clash in the first semi-final game on Saturday night, beginning at 6:05 PM ET at the University of Phoenix Stadium. BetAnySports customers get a special treat, as they receive reduced juice to give them better college basketball betting odds, and then they can challenge the Final Four betting lines in real time as they access the state-of-the-art software available through Live Betting Ultra.
Gonzaga shoots almost 51% for the season, and they allow only 36.5%. That's obviously quite a difference, and they are ranked first in the nation in Adjusted Defensive Efficiency, with South Carolina at #2. So as you can imagine, each team is going to make it very difficult for the other on every possession. But how fast will those possessions go? That's a big factor here, because while South Carolina has been playing at a deliberate pace for most of the season, they have perked things up in this NCAA Tournament, scoring 54 points in the second half against Marquette, 65 against Duke and 44 against Florida, in the process of getting here. Part of their strategy has been to attack the basket, generally behind the likes of Sindarius Thornwell, the SEC player of the year who has averaged almost 26 points in the Big Dance and says he feels better after sitting out practices with an illness. But Gonzaga comes with great rim protection, for the full 40 minutes, as they have seven-footers Przemek Karnowski and Zach Collins alternating on the floor. These guys can both block shots, and they are serviceable when it comes to scoring points.
In the Final Four betting odds posted on this game by the folks at BetAnySports, Gonzaga is the favorite:
Gonzaga Bulldogs -7
South Carolina Gamecocks +7
Over 138 points -110
Under 138 points -110
Thornwell, along with PJ Dozier, gives South Carolina couple of big guards to throw at Gonzaga, so they might be able to get their shots from the outside. But you need to be cautioned – Xavier and West Virginia shot a combined 31% against the Bulldogs over the last two games, and only one opponent out of the last 22 has even reached as high as 42% from the field. When you throw in the fact that prominent non-conference opponents such as Arizona (38.6%) and Florida (36.9%) have had all kinds of problems with accuracy against this defense, you know they are very much for real.
But BetAnySports patrons need to know that South Carolina can be very much for real – and then some. They simply stifle teams from the three-point arc, allowing only 30%, and earlier in the season, they held Michigan to just 2-26 from downtown. Of course, the Wolverines made quite a run late in the campaign, winning the Big 10 championship, then advancing to the Sweet 16, where they were beaten by a single point by Oregon.
A couple of key things to look for – Nigel Williams-Goss, who was the West Coast Conference player of the year for the 'Zags, has hit only 31% of his shots so far in the tournament, and you've got to believe he is capable of much more. He will likely be shadowed by somebody in the South Carolina lineup, quite possibly Duane Notice, the "small" guard. Another thing we want to make note of is that freshman center Maik Kotsar is going to have a big responsibility dealing with Gonzaga's seven-footers. Can he put a big enough body on them? Somehow South Carolina has to prevent the Bulldogs from getting the easy baskets, because their own game plan might be altered quite a bit.
BetAnySports gives you great amenities, including a free play bonus for signing up, plus reduced juice, giving you better Final Four betting odds, and the opportunity to place wagers even after the opening tip, with Live Betting Ultra…… Your deposit a number of different ways, including the virtual currency of Bitcoin, which is fast and easy with their automatic system, and never EVER incurs a transaction fee!