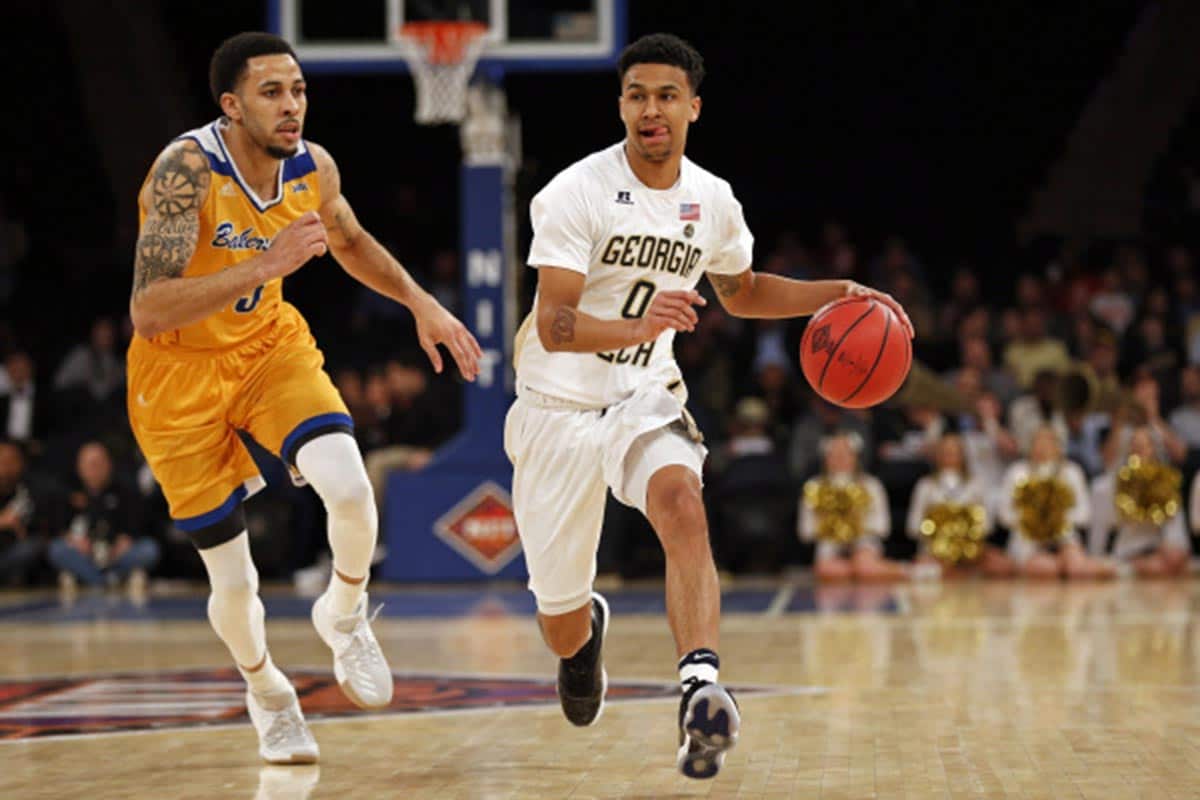 NIT Betting Odds – Cal State-Bakersfield Roadrunners vs. Georgia Tech Yellow Jackets
It would be fair to say that not many people thought that the Roadrunners of Cal State-Bakersfield would make it as far as the final four of the National Invitation Tournament (NIT). But they are at Madison Square Garden, as they deserve to be. And they are getting a lot of respect as they get ready to face off against the Georgia Tech Yellow Jackets in the semi-finals, which is slated to begin at 7 PM ET in New York City. This game will be televised live on ESPN, and BetAnySports customers, who get reduced juice on the NIT betting odds beforehand, will have the chance to place wagers while the game is in progress, utilizing the state-of-the-art software available through Live Betting Ultra.
Bakersfield, which comes into this game with a record of 25-9, started out as the #8 seed in their bracket, and right away they scored an upset over the top-seeded California Golden Bears, and they didn't stop there. Victories over Colorado State and a tough UT-Arlington team have landed them in this position. Some of the holdovers from last year's team participated in the NCAA Tournament, but they only lasted one game, as they lost by 14 points to the Oklahoma Sooners. There is not as much balance on this year's team as there was last year, but they have some people getting hot at the right time. One of them is Shon Briggs, a 6-6 wing who has scored 51 points in the three games on 15-28 shooting. This sudden surge brings his average up to 7.4 points per game. The Roadrunners will often have no one taller than Briggs on the floor, and that could make life difficult against a Georgia Tech team that has a lot of useful size, including Ben Lammers, one of the better shot-blockers in the country. He is someone who, at times, can take control of a game, and he helped Georgia Tech do just that against Ole Miss, with eight blocked shots. He also added 20 points. Quinton Stephens, a 6-9 forward, has made nine of his 19 three-point attempts in this tournament, but the biggest scoring threat has been Josh Okogie, who has exceeded what he did in the regular-season by averaging almost 22 points per game in the NIT.
In the NIT betting odds posted on this game by the folks at BetAnySports, Georgia Tech is the slight favorite:
Georgia Tech Yellow Jackets  -2
Cal State-Bakersfield Roadrunners  +2
Over 123 points -110
Under 123 points -110
Bakersfield will obviously try to counter Georgia Tech with quickness, and they execute very well on the defensive end, holding eight of their last 13 opponents below 35% from the field. And CSUB has gotten hot from the outside during these last three games, shooting 51% from beyond the arc, but one would have to concede that this is way over their head. If they don't meet with the same level of accuracy here, they have to figure out other ways to score, and Lammers is a big obstacle in the middle. Bakersfield has a great shot-blocker themselves in Moataz Aly, but he is not an offensive force, and only plays part-time.
So BetAnySports patrons should expect a lot of pressure from Rod Barnes' team, as they try to create turnovers and "flip the court," so to speak. They are ninth-best in the nation at doing that, and Georgia Tech has had some difficulty over the course of the season in holding onto the basketball. Unfortunately for Bakersfield, their problem is even worse, as they are outside the top 300 in offensive turnover percentage. If this comes down to who shoots better from the outside, Bakersfield will win if they continue stroking it the way they have. But it may be too much to ask of them to do that.
BetAnySports gives you a great deal, including a free play bonus just for signing up….Reduced juice gives you better NIT betting odds, and you can fund your account in a number of different ways, including your Visa card, person-to-person transfers or the virtual currency of Bitcoin!