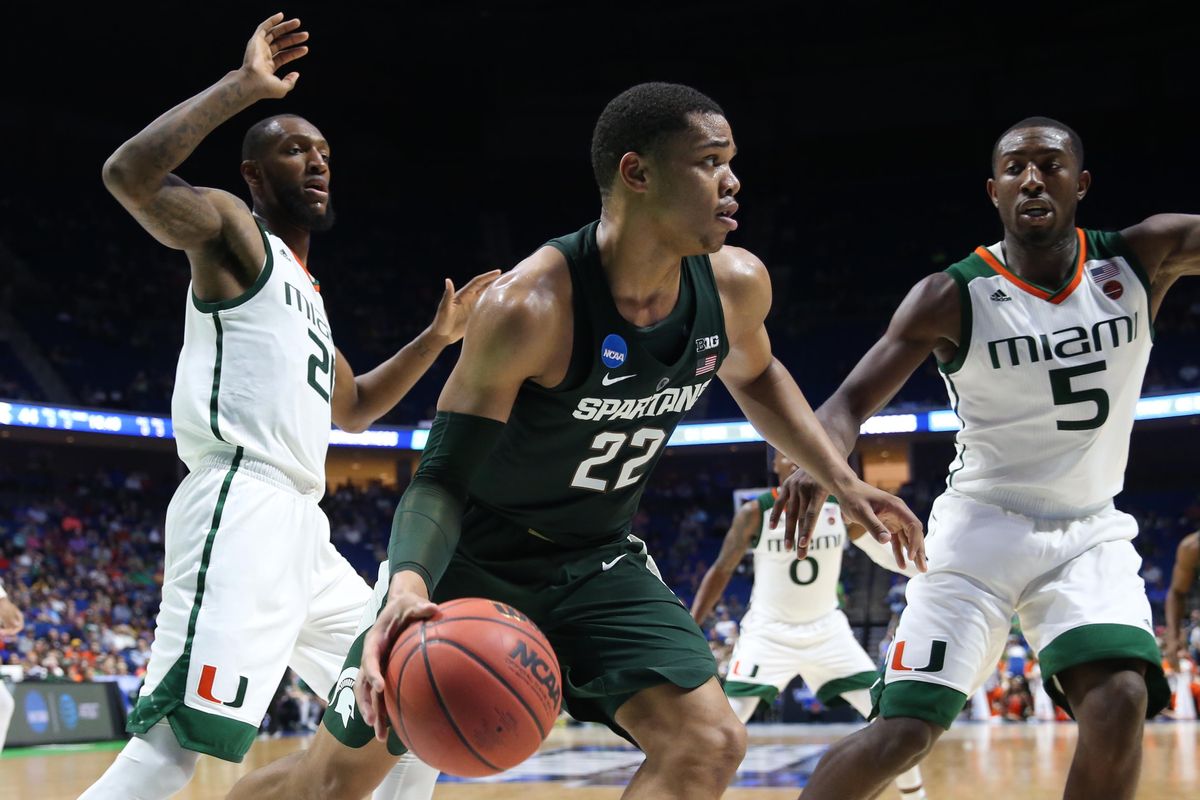 NCAA Tournament Betting Odds – Michigan State Spartans vs. Miami Hurricanes
When it comes to disappointments, it's kind of hard to beat the Michigan State Spartans, who had to really be on the borderline as far as an at-large invitation to the NCAA Tournament was concerned. This is a team that is well-known for traveling far into the post-season competition, but there is severe doubt on the part of a lot of observers that they can do that as they begin play on Friday night against the Miami Hurricanes, in Midwest regional play that begins at 9:20 PM ET at the Bank of Oklahoma Center in Tulsa. The game will be televised on TNT, and BetAnySports customers can get their fill of real-time wagering after the opening tip, as they access the facilities made available through Live Betting Ultra.
Michigan State comes in with a rather mediocre 19-14 straight-up record (17-15 ATS). And there is no doubt the Selection Committee took into account the grueling non-conference schedule they had to face, where they suffered defeats to elite programs like Arizona, Kentucky, Baylor and Duke. They did score at least one significant victory in the non-conference slate, beating Wichita State, and held their own at times once Big Ten competition began. But after sweeping Minnesota in the regular season, they lost to the Gophers in the conference tournament, shooting below 33% from the field. This demonstrates their inconsistency; they have gone 7-8 in their last 15 games, and when they have been away from home their record is a dismal 5-12.
In the NCAA Tournament betting odds posted on this game by the folks at BetAnySports, the Hurricanes are the favorites, but not by much:
Miami Hurricanes  -2.5
Michigan State Spartans  +2.5
Over 125.5 points  -110
Under 125.5 points  -110
Miami is a team that kind of sneaks up on you. They don't necessarily have any superstars, but they have a good team concept, along with the "scramble" defense that has been devised by coach Jim Larranaga, who brought George Mason out of nowhere in 2006 to make the Final Four. NCAA Tournament bettors may not be all that familiar with what Miami does, but one thing you can expect they'll try to do is to slow things down. They've had great success doing that, scoring a 55-50 victory over Duke, not to mention a 54-48 when at Virginia in OVERTIME, mind you. And when they are good on defense, they are VERY good, as they held both of those opponents to slightly under 32% shooting. They are 20th nationwide in Adjusted Defensive Efficiency, and they are good enough that when they can score more than 70 points, they have a 17-1 record. They were a little bit unfortunate in last year's NCAA Tournament, as they drew the eventual national champion – Villanova – in the opening round, so they had an early exit.
BetAnySports patrons should note that Miami has a loaded backcourt, which also creates some size matchup problems, as they put senior Davon Reed, who is 6-6, and freshman Bruce Brown, who is 6-5, out there, along with Ja'Quan Newton, who scored 13.9 points per game and recently came back from his three-game suspension for violating team rules. Miami suffered double-digit losses to Syracuse, Wake Forest, Duke and Florida State, and also were beaten by 25 points by North Carolina in the ACC final. But there is no doubt that Michigan State is going to have to overachieve to beat them. Tom Izzo has brought his team to seven Final Fours, but largely it has been with teams more talented than this one. However, there are two freshmen with big upside – Nick Ward, a 250-pound muscleman who is best in the nation in offensive rebounding, and 6-7 forward Miles Bridges, one of the more versatile players in the country, who will be one of the top picks in the NBA draft, quite possibly.
BetAnySports patrons know what it's like to be treated the right way, as they get a generous free play bonus, along with reduced juice and the ability to place in-game wagers in real time. That's huge………And when you consider that you can deposit using a Visa card, person-to-person transfers and the virtual currency of Bitcoin, that's a winner all the way around!