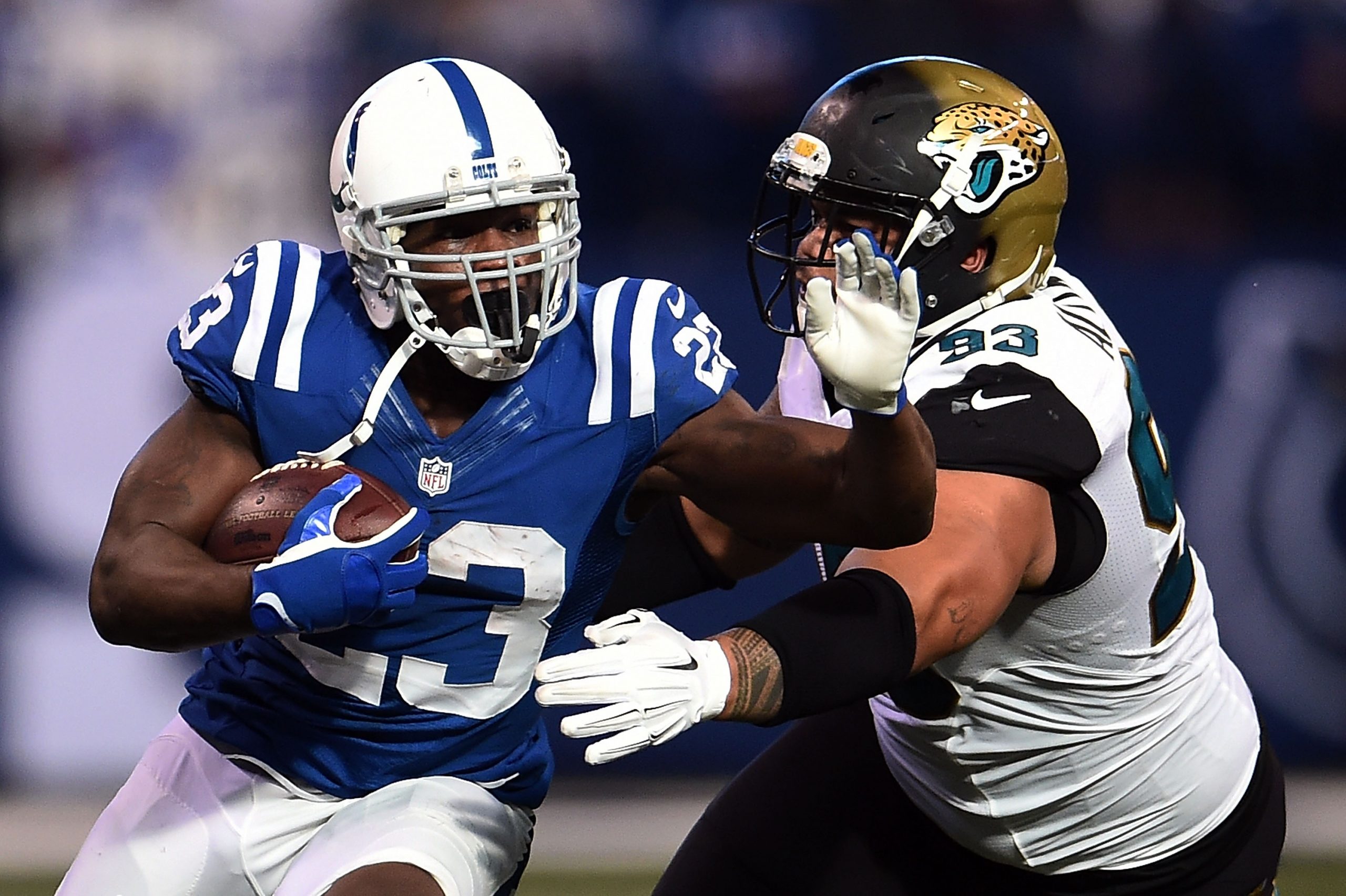 Football Betting Odds — Jacksonville Jaguars at Indianapolis Colts | Picks and Predictions | OSB
Football Betting Odds — Jacksonville Jaguars at Indianapolis Colts (11/14)
The Jacksonville Jaguars might be on cloud nine right now after their big defensive performance against the Buffalo Bills, who are one of the elite teams in football.

BetOnline customers know that that could well be the big highlight of Urban Meyer's season as Jacksonville's head coach, and maybe even his NFL coaching career, although our understanding is that his owner, Shad Khan, is a pretty big fan of his.
So the question comes into play as to what these Jags do for an encore. They are drawing a pretty tough opponent on Sunday, as they take on the Indianapolis Colts, who are fighting to stay in the playoff race.

This game will begin at 1 p.m. Eastern time at Lucas Oil Stadium in Indianapolis, televised by CBS on a regional basis.
Jacksonville held Buffalo to just 301 yards a week ago, and the high-flying Josh Allen averaged 4.8 yards per attempt, with two interceptions and four sacks. So perhaps you don't want to go to sleep on these guys.
And maybe the perception is that they are a pushover, because of the circus-like image created in the media regarding Meyer and his behavior. We are not saying it's not without justification, mind you, but is it possible the Jags aren't as bad as everyone makes them out to be?
In football betting odds posted on this game by the people at BetOnline, Indianapolis is a double-digit favorite:
Indianapolis Colts -10.5 (- 102)
Jacksonville Jaguars + 10.5 (- 118)
Over 47.5 points – 108
Under 47.5 points – 112
The Colts had suffered some injuries on the offensive line, and only recently have they had a more healthy bunch. Of course, the anchor of that line is All Pro guard Quenton Nelson, who recently came off injured reserve. There is very little question that he is the best in the business at his position, and he's got a real thoroughbred running behind him, as Jonathan Taylor looks like he is ready to assume the NFL rushing lead.
Taylor destroyed the New York Jets last time out, running for 172 yards in the 45-30 victory. On the season, he's got  821 yds., which translates to a sizzling 5.9 per carry. With Derrick Henry injured and perhaps gone for the rest of the season, Taylor's probably the premier back cureently operating in the NFL right now.
And speaking of Henry, his Tennessee Titans still lead the AFC South by three games over the 4-5 Colts, but Indianapolis knows that it's going to be a wide-open race for these three wild cards in the AFC, and they are right in the middle of it.
One guy who's trying to shake a bad rap  is Carson Wentz, the quarterback who came over from Philadelphia to reunite himself with Frank Reich, who was his defensive coordinator with the Eagles. Wentz is a 63% passer, but what's really impressive is his ratio of 17 touchdowns to only three interceptions. Michael Pittman has emerged as a genuine prime target for him, with 50 receptions, and it looks as if Ty Hilton has cleared concussion protocol and is available to play. We're not so sure how much action he's going to see, but when he's on the field is a genuine long-ball threat.
At the moment, we see Indianapolis as a team with some momentum, while Jacksonville might be reading its press clippings, so to speak. Pardon us for not having a lot of faith in Meyer and his crew, but we know that Trevor Lawrence, who's been intercepted nine times, is still a work in progress. The Jaguars only gained 218 yards from scrimmage last week, even in victory, and RB James Robinson is an iffy proposition for them (heel injury). The Colts, after last week's result, won't overlook the Jags and instead ahead to next week's game against Buffalo. We are comfortable laying the points.
Are you looking for a boost? How about a 10% boost? That's what you can get added to your bankroll when you deposit with Bitcoin at BetOnline……. Be on the lookout for Odds Boosters as well, with xplosive payouts on pre-selected parlays every day of the week, and take advantage of the opportunity to wager on all the games while they are in progress!