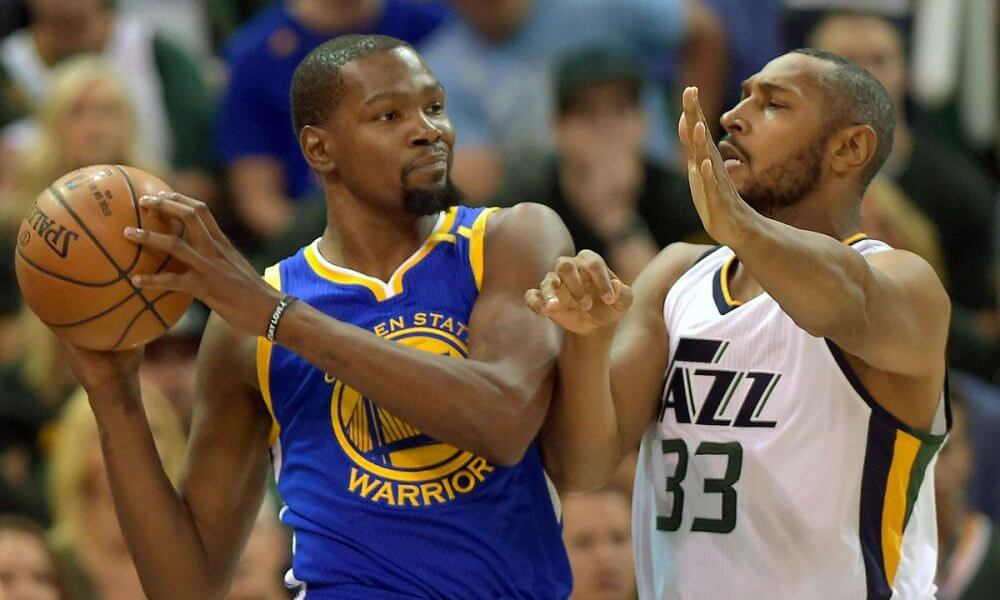 Golden State Warriors vs. Utah Jazz Game 4 – 5/8/17 Free NBA Playoff Pick
Well, the Golden State Warriors may be dead set on duplicating what their opponents in the last two NBA Finals have done, which is to sweep the first two playoff series on their plate. The Cleveland Cavaliers have moved through the first two series without a loss, and G-State has that opportunity as they line up for action on Monday night against the Utah Jazz, in a game that begins at 9 PM ET at the Vivint Smart Home Arena in Salt Lake City. BetAnySports can watch this game on TNT and place wagers in real time, using the state-of-the-art software that is available through Live Betting Ultra.
It was a very disappointing Game 3 result for the Jazz, which led by nine points in the second half but managed only 41 points over the last 24 minutes, because Golden State has the ability to stop people – even better than the Jazz, who pride themselves on being able to play defense and makes good shots difficult for the opposition. The numbers bore that out during the regular season, as the Warriors were ranked second in defensive efficiency, while the Jazz were ranked right below them.
You could make the claim that the Warriors have some upside in this game, as they got a combined 7-for-29 shooting from Steph Curry and Klay Thompson, which you figure has to improve. Thompson, meanwhile, has drawn praise from interim coach Mike Brown for his defense against the likes of Joe Ingles and Rodney Hood.
In the NBA playoff lines posted at BetAnySports on Game 4, the Warriors are solid favorites on the road:
Golden State Warriors -8
Utah Jazz +8
Over 206 points -110
Under 206 points -110
Utah was undoubtedly hoping that Joe Johnson could perform some of the same magic he did in the previous series against the Los Angeles Clippers, but that hasn't happened. In fact, he is shooting just 33% as he is obviously facing a defensive setup that has been more challenging for him. And Hood continues to struggle, with a poor one-for-eight effort in Game 3, as coach Quin Snyder admits that he is not really at peak health.
Even so, Gordon Hayward, who went into Game 2 having shot just 26.7% against Golden State the previous five times he faced them, has connected for 33 and 29 points the last two games. And Rudy Gobert, who we had questions about coming into the series because of the knee and ankle injuries he suffered against the Clippers, had an assertive effort in Game 3, with 21 points and 15 rebounds, as he logged almost 39 minutes of action.
That's the good news. The bad news is that the Jazz, who even got eleven more chances at the free throw line (mostly thanks to Hayward) still lost the game by double digits. And even when the pace is slow, they have not met with enough success to pull within ten points of these Warriors. So really, is there any way to turn?
Well, not really, but for our purposes, we could forecast that they are not going to go the "fast break" route, because that won't work against G-State. So expect that they will be as deliberate as they can, limiting possessions if at all possible, and that could produce the ninth "under" in the last ten meetings between these clubs.
BetAnySports has a great free play bonus waiting for you, along with reduced juice, which will give you better odds when you make your NBA playoff predictions……..Live Betting Ultra will keep you very much in the action after the game begins, and you've got variety when it comes to opening up an account, as you can usee a Visa card, person-to-person transfers or the virtual currency of Bitcoin, which never, ever incurs a transaction fee!