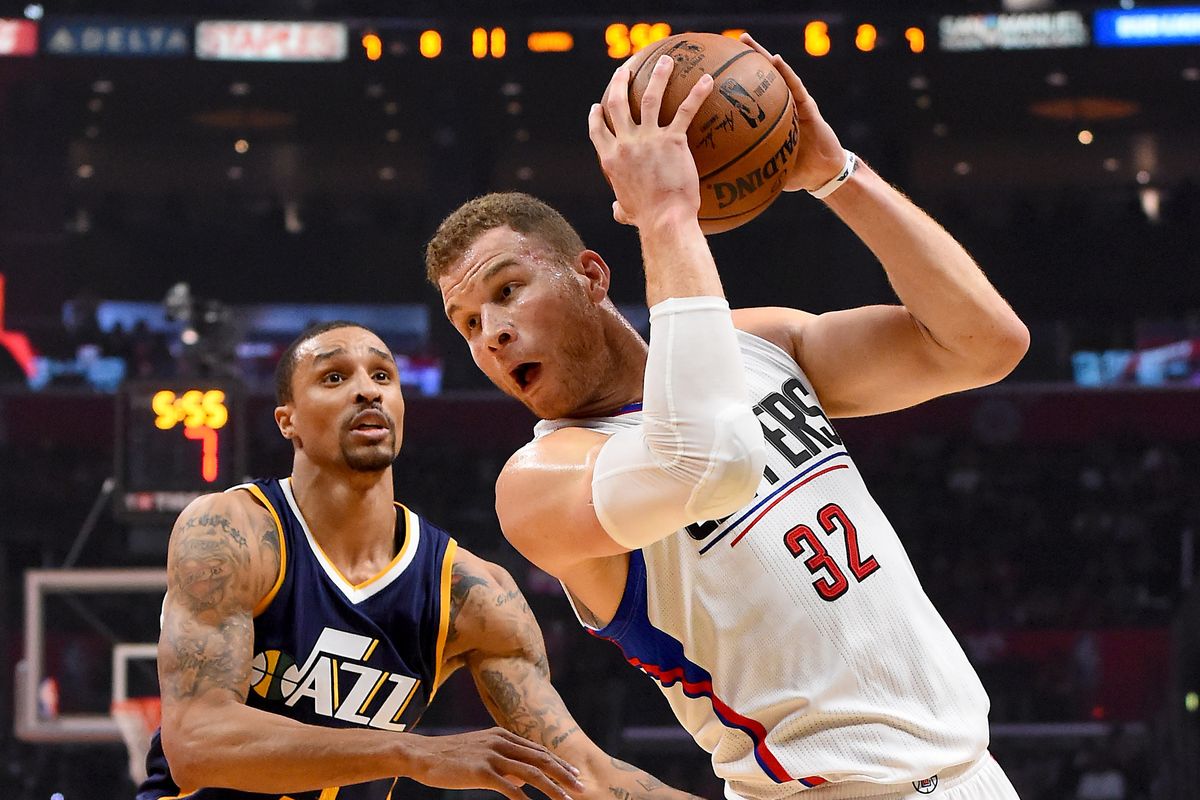 Utah Jazz at Los Angeles Clippers Game 2 – 4/18/17 Free NBA Playoff Pick
Almost from the beginning of Game 1 of their Western Conference playoff series, the Los Angeles Clippers looked like they were going to extract a big advantage. After all, Rudy Gobert, the center who led the NBA in blocked shots this season and came on nicely on offense in the 2016-17 campaign, went down with a knee injury, so the Utah Jazz had to move forward without him for 47 of the 48 minutes. But alas, the Clippers were not able to exploit that, letting the Jazz hang around long enough for Joe Johnson, the wily veteran and six-time NBA All-Star, to hit the game-winning shot as time ran out in the 97-95 Utah victory. The Clippers have disappointed their fans quite a few times in the playoffs, and it would be crushing if they went down two games to none in this series, so it is with a special sense of urgency that they line up at 10:30 PM ET at the Staples Center for Tuesday night's Game 2. Remember that if you are a BetAnySports customer, you can get reduced juice before the game starts, and then continue your action with real-time wagering facilitated by the software provided through Live Betting Ultra.
Utah is certainly one of the best defensive teams in the NBA, allowing fewer points per game than anyone. They also love to set a slow tempo for these contests, and obviously a central figure in all of this is Gobert, who is a rather fearsome presence in the lane. But even without him, the Jazz held the Clippers to less than a points per possession, and power forward Blake Griffin, who scored 20 points in the first half, had only six in the second half, indicating that the Jazz made effective adjustments on the inside. But admittedly it would be a challenge for them to do that again. One would expect that the Clippers would come out and try to run a little bit more, thus giving Utah less time to set up defensively. And they will have to attack the basket as well, challenging what could be a potential weakness.
In the NBA playoff betting odds posted on this game by the folks at BetAnySports, the Clippers are laying some points:
Los Angeles Clippers -9
Utah Jazz +9
Over 198.5 points -110
Under 198.5 points -110
Utah had only six offensive rebounds in Game 1, so it would stand to reason that if Los Angeles can do a pretty good job limiting the outside shooting abilities of Utah's people, namely Gordon Heyward and Joe Ingles, that would increase their chances. Johnson had 21 points off the bench, and Utah, as a team, got 47 points from their reserves. This is a team that bulked up on veteran leadership in the off-season, signing not only Johnson, but Boris Diaw and George Hill, who took over what was a relatively shaky point guard position.
But Gobert was fifth best in the league in the metric of Defensive Real Plus Minus, meaning that there is a tremendous difference on defense between when he is on the floor and when he isn't. Will this open up something for the Clippers? That's a question BetAnySports patrons could reasonably ask. But if you want to talk about another metric, keep in mind that despite standout big men like Blake Griffin and DeAndre Jordan, the Clippers only scored 36.7% of their points in the paint this season, and only two teams in the league had a lower percentage than that.
At least Utah should get healthier in one place in Game 2, as Raul Neto, who missed Game 1, has told reporters that he fully intends to be in action on Tuesday night. Neto has been a useful backup at the point guard position for the Jazz. As for the Clippers, Austin Rivers, the coach's son, remains out, and that definitely cuts into their own depth in the backcourt.
BetAnySports customers have the opportunity to get reduced juice before the game starts, and that gives them better odds with which to make their NBA playoff predictions…… Also, there are the thrills of real-time wagering with Live Betting Ultra….Keep in mind that you can deposit in a number of different ways, including your Visa card, person-to-person transfers and the virtual currency of Bitcoin, which brings lots of privacy and confidentiality, but no transaction fees – EVER!