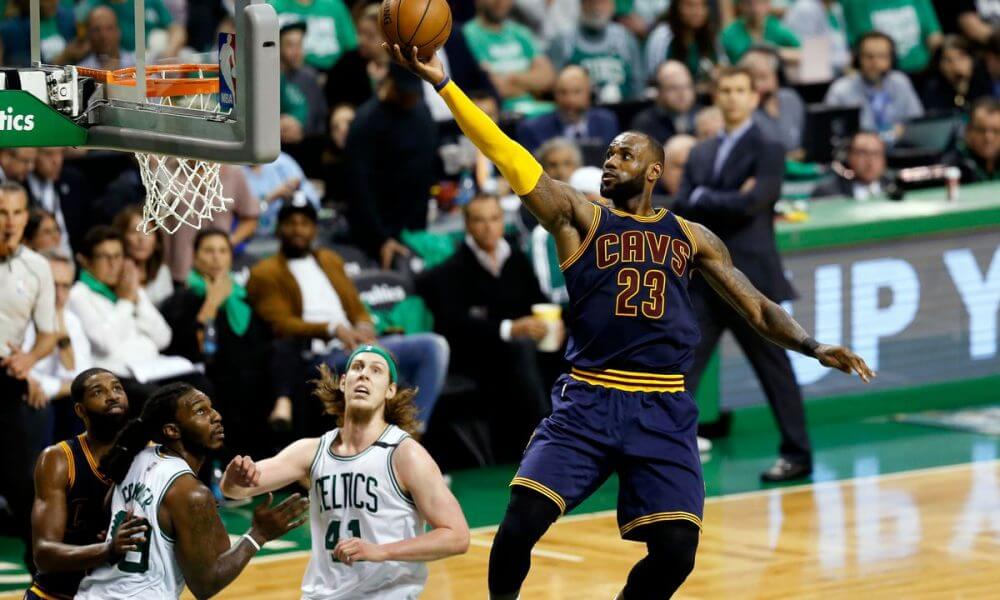 NBA Playoff Picks — Cavs Regroup and Take Aim at Celtics
The Cleveland Cavaliers were in no way happy as they departed the floor on Sunday, having blown a golden opportunity to go up 3-0 in their series against the Boston Celtics. This sounds cliche-ridden, but they were somewhat flat coming into that one. The Celtics retained their intensity throughout, and as a result they staged a comeback that represented the biggest lead LeBron James has ever "blown." On Tuesday night they will again try to win their third game of this series, as the action gets underway at 8:35 PM ET at the Quicken Loans Arena. BetAnySports customers will have the opportunity to place wagers even after the game begins, as they access the state-of-the-art software that is available through Live Betting Ultra.
If you were watching the first quarter of Sunday's game, you would have thought "blowout city" once again, as the Cavs took an eleven-point lead at the end of the period and then quickly extended that to 17 in the second, and then to 20 early in the second half. But give credit to Boston coach Brad Stevens, who would not let his guys let up. He implored them to keep playing hard, because in his words, "They (the Cavs) will let you back into the game." And they did. The Celtics plugged away and rebounded from that deficit, then got a miraculous three-pointer from Avery Bradley with almost no time remaining to win it 111-108. And to put it mildly, the Cavs were in a bit of shock. LeBron lost it with a fan afterward, and was somewhat sullen at the post-game press conference.
Naturally he wasn't all that happy, as he'd had a horrific game, scoring just eleven points on 4-of-13 shooting. How will he respond to all of that? We're almost certain you'll see the intensity in the air this time, with the only question being how that might translate in terms of the pointspread.
And for your information, the pointspread, according to the folks at BetAnySports, has the Cavs as a considerable favorite:
Cleveland Cavaliers -15.5
Boston Celtics +15.5
Over 217.5 points -110
Under 217.5 points -110
Cleveland got only nine points out of the bench on Sunday, and that may or may not have had something to do with the outcome. But curiously, Channing Frye didn't see any action at all, and Deron Williams was on the floor for a little less than nine minutes. Collectively, the Cavs were 16 of 39 from three-point range, and a lot of that came from Kevin Love, who scored 28 points. The Celts don't necessarily have a defensive matchup for him, unless it is Al Horford, and in the Boston lineup, that would leave a lot of pressure on the shoulders of people who may not be equipped to handle it. Keep in mind that Tristan Thompson had seven offensive rebounds for the Cavs the other day, and keeping Cleveland off the offensive boards is going to continue to be a problem.
But who knows – maybe BetAnySports patrons should consider the balance Boston brings to the table – or at least what they brought to the table on Sunday – is a problem for the Cavs. Remember that Isaiah Thomas' hip injury has him on the shelf, so Boston has had to figure out a different way to spread the ball around, and they excelled with 28 assists in Game 3.
Is that an easy defensive problem for the Cavaliers to solve? Well, Marcus Smart erupted for 27 points on Sunday, and he really doesn't do it all that often. Boston got nice contributions from some people off the bench, but perhaps the best thing that could happen for them would be for Kelly Olynyk to have another nice offensive game (15 points Sunday), which would exploit Love's defensive limitations, or for a smaller lineup to succeed, which would take Love and his long-distance shot out of the game. Of course, Cleveland has a lot of people who can hit the triple, and they won't get caught napping this time, so laying the points may not be a bad idea.
BetAnySports customers get welcomed with a great free play bonus, receive reduced juice on their NBA playoff action, and can wager along with the action with Live Betitng Ultra………Don't forget that you can deposit with Bitcoin, which is fast and easy with their automated system, and which never incurs a transaction fee!