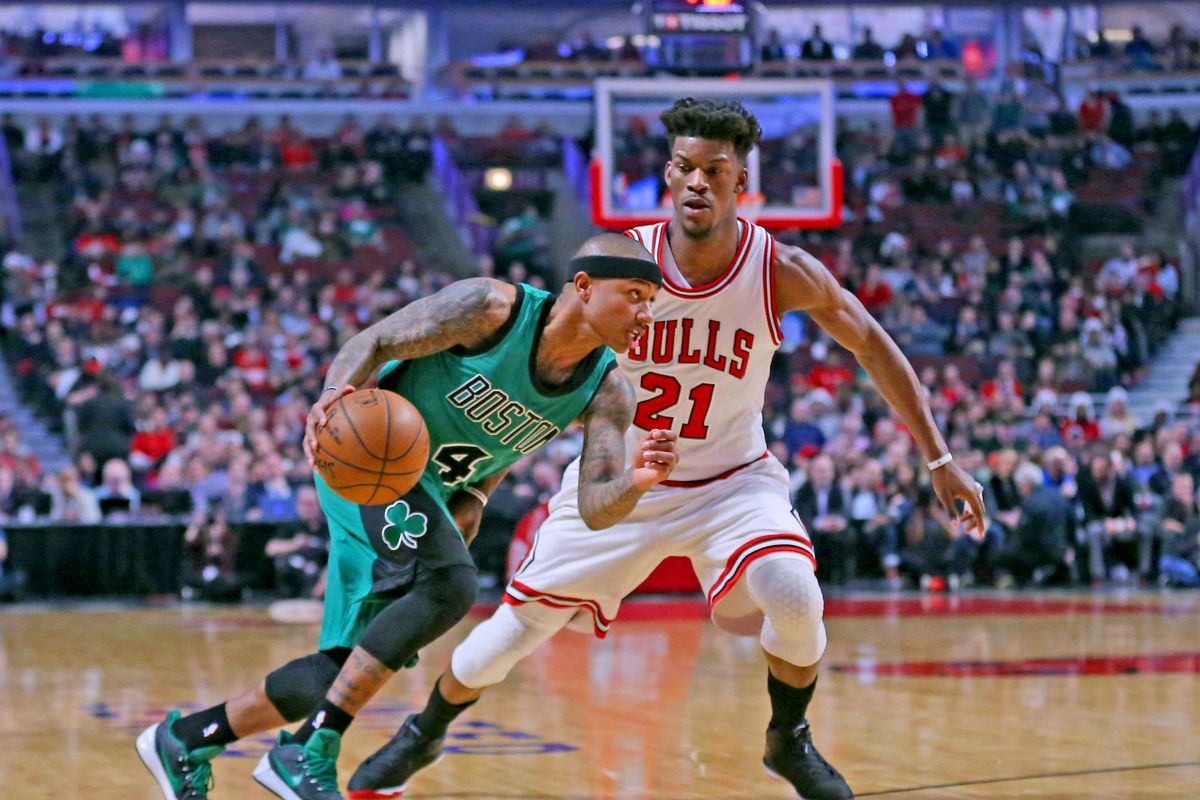 Chicago Bulls vs. Boston Celtics Game 2 – 4/18/17 Free NBA Playoff Pick
The Boston Celtics came into Game 1 of their Eastern Conference playoff series against the Chicago Bulls knowing that they had to do a very good job on the boards. Well, they failed in that mission, despite a heroic performance from their top player, who was fighting off lots of emotion after the death of his little sister. So Isaiah Thomas and the Celtics lost Sunday's game, and will try to even things up in Game 2, starting at 8:05 PM ET at the TD Garden. BetAnySports customers will have the opportunity to get reduced juice, giving them better NBA playoff betting odds, and then, after the opening whistle, they can continue to participate, as they access the state-of-the-art software from Live Betting Ultra.
Thomas had 33 points, one day after finding out that his sister was killed in a one-car accident near his home in Tacoma, WA. What he will do is play in Tuesday night's game, then fly home to engage in the funeral arrangements and console his family. At 5-9, Thomas isn't expected to be someone who pounds the backboards, so he wasn't really responsible for the advantage Chicago was able to exert down low. The Bulls swept 20 offensive rebounds, including eight by Robin Lopez, and they just beat up Boston underneath. Yes, the Celtics got 19 points and seven rebounds out of Al Horford, and they had 14 triples as well, but Horford had no rebounds in the critical fourth-quarter, and Boston had no defensive answer for Jimmy Butler, who scored 15 of his 30 points in the final stanza.
In the NBA playoff betting odds posted here at BetAnySports, Boston is the favorite in Game 2:
Boston Celtics -7
Chicago Bulls +7
Over 206.5 points -110
Under 206.5 points -110
All told, Chicago had a 53-36 advantage on the boards, and one of the big contributors came off the bench. Bobby Portis, the young power forward out of Arkansas, had 19 points and nine rebounds, and obviously this contributed to the second-shot opportunities. The Bulls were 4th in the league in offensive rebounding percentage this season, while Boston was only 26th in defensive rebounding percentage, and in the games where Chicago beat Boston this season, they had positive rebounding margins of 19 and 20 points, respectively, so maybe this wasn't a big shocker.
The Bulls' veteran presence also counted for something, as many BetAnySports patrons probably imagined. Dwayne Wade only had 11 points, but had a couple of steals and a couple of block shots, and Rajon Rondo turned the ball over only once in his 27 minutes on the floor. As these teams meet again, there is something important to keep in mind: a #8 seed has beaten a #1 seed in the NBA playoffs eleven times in Game 1. But the #1 seed has come back to win eight of those 11 series. That's only one of the reasons the Celtics have a lot of confidence in themselves coming into Tuesday night's game. Yes, they have to fix some problems, and that includes keeping the Bulls away from those offensive boards again, and for that, everybody will have to chip in.
BetAnySports has some of the most attractive "extras" for incoming customers, including a generous free play bonus, reduced juice, which gives you better NBA playoff odds, and the opportunity to stay in the action after the opening tip, courtesy of Live Betting Ultra…… Remember that you can deposit in a number of different ways, including Bitcoin, which is fast and easy with their automatic system, and never carries with it a transaction fee!